"1968 was an absolutely lovely year," reflects Barbara Sherriff of her childhood in Czechoslovakia, "the so called Prague Spring."
Barbara, her mother and father lived in a small village in the north of the country. Her mother was a secretary and her father, a former journalist, was working as a chemist in a factory. Barbara's memories of this time are of loving school with only a few shadows cast by the ever-present political propaganda. "The 60s were becoming a more relaxed time," she says "with the exception of communist propaganda, I was happy in school."
During the Prague Spring, Czechoslovak citizens were reveling in a short interlude of liberalization that followed an era of dominance by the Soviet Union after the Second World War. There was a loosening of restrictions on media, speech and travel. "In 1968 for the first time, we were being taught about the founding of the first Czech Republic in 1918," remembers Barbara, "so there was this opening up."
Then, on August 21 1968, the brief period of openness ended abruptly "when the tanks of five Soviet satellite nations basically invaded Czechoslovakia," says Barbara.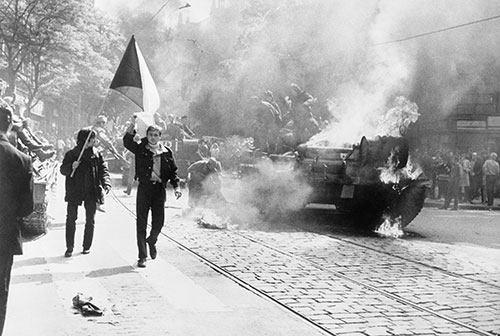 "The tanks didn't make it all the way up to our village," recalls Barbara, but escape was now on the minds of many. Families and individuals thought it better to leave the country than to live under Soviet occupation and the re-implementation of hard line communist rule. Barbara noticed her class size was shrinking, as many students did not return following summer break and then Christmas holidays. Families were dropping everything to flee.
Christmas Eve, 1968, Barbara and her mother packed up their things as well. They took only two suitcases between them so that it would not look like they were leaving for good. Then, "my mother shut the door to her apartment where she had all kinds of things that were close and dear to her," remembers Barbara.
Their travel documents had been organized with the help of a forged letter from an imaginary family friend inviting them for a visit. Barbara's father had left four days before and made arrangements for a family friend to meet his daughter and wife in Vienna. But when they arrived in Vienna, they found no one. The address for their contact was a boarded-up and abandoned house.
Barbara remembers being worried, but also her youthful sense of adventure. Present day Barbara has more perspective, "I now realize the horror my mom must have felt," she explains "she didn't even speak German."
"My mom was a very brave woman."
Seemingly stranded, Barbara's mother went to a nearby pub to ask for help. Though she did not speak the language, she managed to leave a message that included their hotel information. As Barbara explains, "we had a Christmas miracle…" A woman at the pub noticed the dire situation the mother and child were in and also happened to know who they were looking for. She made a phone call and when Barbara and her mother returned to their hotel, the miraculous message from the missed contact was waiting.
"In my thoughts I should have thanked that lady more often," she explains of the woman in the pub, "I'll forever be grateful to this lady who was not shy about picking up the phone."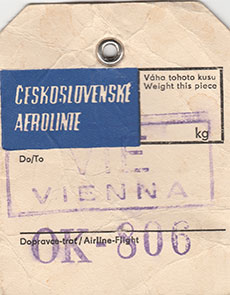 Temporarily sheltered, the family's next goal was to leave Europe altogether. A stroke of luck found the family "in the right place at the right time," as Barbara explains, when the Canadian government was allowing quick visas to Czechoslovak refugees fleeing the Soviet invasion. The family was able to expedite their travel to Canada and leave within weeks. They embarked on a plane in Stuttgart, Germany and travelled to Toronto to start their new life.
As many know, the beginnings of settling in to a new country with a new language is rarely easy, "Both of my parents were 48, that's not a good age to start in a new country," says Barbara, but the family was determined. Barbara's mother found a variety of work in kitchens and as a house cleaner and her father, an educated chemist in Czechoslovakia, worked at a gas station for a time.
Barbara set to learning a new language and going to school. She picked up English quickly and studied hard. Her skill for languages led her to pursue a degree in linguistics. After graduating from the University of Toronto, Barbara returned to Germany for a clerical job with Radio Free Europe during the height of the Cold War, her interest in politics increasing as she worked alongside expats and journalists who, like her, had escaped Czechoslovakia.
In 1994, Barbara returned to Canada, "because my parents were here" she says and "I considered myself a Canadian." She reoriented her career to become an accredited translator and interpreter, working in Czech, Slovak and English projects. She also became active with the Czech and Slovak Association of Canada, with the need to embrace and remember her Czech culture in Canada, "it's like my old country basically fell into a pool of water and never resurfaced," she says "I never saw the flag again I never heard anybody speak Czech again."
Despite sometimes missing her country of origin, Barbara never had trouble living with what she considers a dual identity, "It's very possible for a person to be at home in two different worlds," she muses "it's very possible for me to be totally Canadian and Czech as well," but decides "I think I'm much more Canadian than I am Czech".
Visitors can hear more of Barbara Sherriff's Oral History this summer in the Seeking Refuge section of the Canadian Immigration Story exhibition.
In recognition of the 50th anniversary of Prague Spring, the Museum will be unveiling a new pop-up exhibit 1968: Canada and the Prague Spring Refugees. Learn more on our Temporary Exhibitions page.