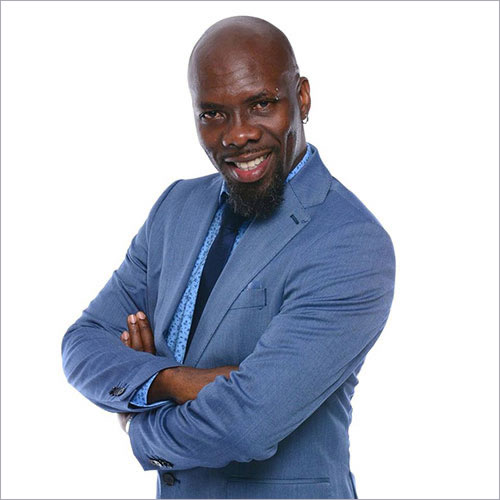 Gareth Henry is the Service Access Manager at the Toronto People with AIDS Foundation, he's an advocate for LGBTQ rights and donates his free time with Rainbow Railroad, an NGO that helps LGBTQ individuals escape violence and persecution in their home countries.
Advocacy has been Gareth's life purpose since he was a young adult living in Kingston, Jamaica, where extreme violence against the LGBTQ community is constant, prevalent and with no protection from police or government. The decision to leave his country was a matter of life and death.
Gareth grew up in "a close, supportive, Christian family household" in the town of St. Mary's. Early on, Gareth and his family recognized his uniqueness, "I knew I was a different kind of a kid," he says, "I realized I was not like the other boys who were in my community." Instead of rejection, Gareth's family tended towards careful sheltering. From school, to home to church on the weekends, they organized a strict schedule to keep tabs on his whereabouts at all times.
When he was 15, Gareth moved to Kingston. Away from the eagle eyes of his family, Gareth explains he was finally able "to be my authentic self." He did not communicate with his family, an intentional decision he made because he did not want to lie. It was a conversation that everyone wanted to avoid, "my grandmother in particular, in her 77 years, [never] asked me any questions about being gay or ever raised the word."
Gareth found support in volunteerism, with Jamaica AIDS Support and then witnessed the founding of J-FLAG, the Jamaican Forum for Lesbians, All-Sexuals and Gays, in 1998. "I was excited," he says of these beginnings "I wanted to be involved and to do things." His first project was to absorb as much as he could from the more seasoned activists, "I sat and I listened and I learned from them. I knew very little because I grew up in a very sheltered family."
Then, in 2004 J-FLAG's co-founder and public figure was murdered leaving a huge void, "we lost our voice," says Gareth. With media hassling the organization for a comment J-FLAG scrambled to find a new spokesperson. Openly representing an LGBTQ activism organisation in Jamaica was very dangerous, but Gareth stepped up, "I raised my hand, I said I'll do it!" It was his first time speaking publicly and he discovered he had an affinity.
"That was where my public advocacy started," he says. A natural leader, Gareth began working extensively with JFLAG and was soon elected co-chair.
Alongside the hard work and hard-won moments of success the violence against his community escalated. Over the next four years, Gareth saw 13 of his colleagues murdered including his best friend, Steve, "I don't think a lot of people have to go to a murder scene and to say, that's my friend" he says, "that lives with you for a life time. It doesn't go away." The memory has a horrible dream-like quality and he still finds himself questioning if it really happened, "Did I really ID Steve?" he explains "Yes Gareth, it was Steve. It was Steve."
Instead of cowering, as each of these lives was cut down Gareth spoke stronger and louder, "I challenged every obstacle that came in my way." But, while inspiring and leading his community he had also become a target. Death threats arrived from all corners, the public, his neighbour, taxi drivers and even from the police themselves. His home address was posted in a local newspaper where he and his friends were referred to as a "homosexual prostitutes."
"But still my spirits and my passion for what was right didn't change."
Until Valentine's Day, 2007. Gareth was in a shopping mall and intervened when he saw two trans-women being attacked. An altercation ensued, police were called and they launched their attack on Gareth, "I was beaten by four police officers in front of a court of about 300 people," he says, "it was a horrific day." He went into hiding, but plain clothes police officers stopped his car in traffic to tell him "we'll find you, we know where you live and we're going to kill you."
It was Gareth's breaking point. He hired a lawyer, applied for refugee status and chose to escape to Canada, arriving in January 2008. Leaving his work in Jamaica was an impossible decision and one that he still questions, "After moving here… I was still saying man, I shouldn't have." However, he knows it was the only option, "in my lifetime I want to see a Jamaican society where people are treated equally," he explains "then my intuition was like, yeah if you want to see that Gareth, you're going to have to leave."
The security Gareth now feels in Canada is not because he believes there is no homophobia, but because he knows that if something happens to him the law is on his side. "I owe Canada my life," he says.
Of the future, Gareth is cautiously optimistic. He believes in the coming generations of young people in Jamaica and his work with Rainbow Railroad is dedicated to this younger generation. He is doing everything he can to get them safely out of the country so they can be the voices of the future. Almost counter-intuitively, he is helping them escape the very country he wants them to change, but "we all can't stay because we all can't die at the same time," he explains.
Looking to the future, Gareth's only thought is for the community he works tirelessly for "I want to serve my community as best as I can," he says "finding creative ways to support and inspire and give hope to those that think there is no hope."
Gareth's story can be found in our Refuge Canada exhibition, along with the safety-pin he loaned for exhibition that symbolizes his work and approach to life.
The exhibition also touches on the Canada Supreme Court decision that specified a person can claim refugee status due to their sexual orientation, making Canada a leader in recognizing LGBTQ refugees. Refuge Canada is on display at the Canadian Museum of Immigration at Pier 21 until November 11 before beginning a national tour.