The first of their family to go to school, brothers Khamsum Wangdu and Kunsang Namgyal worked hard to obtain their dentistry degree from the University of Kathmandu, a challenge compounded by being Tibetan refugees. When graduation day came, celebrations were cut short when they were told they could not write the licensing exam because they did not have "the proper paperwork." Though their family was originally from Tibet, they were stateless and "did not have the necessary legal documents that could prove that we belong to somewhere," says Khamsum.
"It was quite devastating," adds Kunsang, "we worked really hard for that." The brothers appealed their case to the Nepal Medical Consulate, but to no avail.
Kunsang and Khamsum were familiar with this feeling of not belonging. Born and raised in the refugee camp, a village of only about 300 people, they did not know any other way of life. As they grew, Khamsum remembers realizing "our village is very separate from the other cities," and noticing "we had a boundary … when you move outside of the camp then you start realizing the people speak different language, they have a different culture."
When they watched television on the camp's single TV, they would see Tibet portrayed in movies, or shown on the news. While this reinforced the feeling of isolation, it also made them feel close to their tight-knit community. "You feel connected, even though you are a thousand kilometers away," says Khamsum, "we are not in our country, but then, we are with our people."
Since they were little, the brothers were told over and over to get educated, go to school, and they worked diligently towards their shared dream of becoming dentists. They aspired to this calling after their grandfather died from an infection following a tooth extraction by an unqualified dentist. The brothers were very close with their grandfather, "when something like that happens it's a bit shocking," explains Kunsang, who remembers deciding, "if I could become a dentist I was somehow going to help people."
When they were prevented from writing the exam it was truly crushing. Before they could decide what to do, another blow came in the form of the devastating earthquake that hit Nepal in 2015. The Canadian embassy expedited their application to emigrate, in part because of the disaster. It still did not seem like it was really going to happen.
The challenging process of paperwork, interview and legalities and the constant reminder from the Nepalese government that they were stateless only added to the ordeal. "Just to go there to apply for things and to be considered as not a right person," says Khamsum of what it was like travelling from the camp to Kathmandu numerous times for interviews and paperwork. They persevered, and the family was officially on their way to Canada after several months.
As they left Nepal, Kunsang remembers a sense of liberation "I felt big relief," he says, "we had so many challenges just because we were born stateless, that wasn't our choice at all," he says "once the plane took off I felt totally sort of different," he laughs, "it was a quite surreal experience."
They landed in Toronto, and immediately enrolled into English classes. The brothers had only a basic foundation of English, so it was imperative to begin learning right away. "Not just the language, but understand the culture and know the mentality of people," says Khamsum, "it was a very good thing that we joined the class."
As they began to learn about their new country they were overwhelmed by acceptance and kindness. "We never felt different from any people," says Khamsum, "even though we came as a refugee… we were never treated as different people. You feel a part of huge society where you meet people from different parts of the world, have their own cultures, and to be able to connect with them is just absolutely a different experience."
The brothers began to see their path open back up, "we had a thing in our mind," says Kungang, "we had our dentistry background from Nepal, we had a dream that one day we wanted to practice dentistry here in Canada." They eagerly took on the new challenge of studying for admission into a dental program for internationally educated dentists. Hundreds of hours spent studying to pass the fundamental assessment exam by the profession's licensing authorities and an international English test paid off. Khamsum got into the University of Toronto, and Kunsang into Dalhousie University.
Graduation day is still two years into the horizon, but compared how far they have come they agree they can now see the light at the end of the tunnel, and it is an incredible feeling. They overflow with gratitude for the country that welcomed them, and helped forge this path with them. "The number of opportunities that we received was overwhelming, amazing," says Khamsum.
Kunsang and Khamsum hope their story is inspirational to aspiring newcomers who are in the midst of the challenging process that immigration can be. "I must say it was worth it," says Kunsang, "it brings you a lot of challenges, might intimidate you, but if you strive for it the end of the tunnel will be always glowing."
"Regardless of any kind of situation if you believe in yourself, if you have a dream, there's always a way to get through with it."
And Khamsum concurs, "have some belief in yourself because if we can do it, everyone can do it."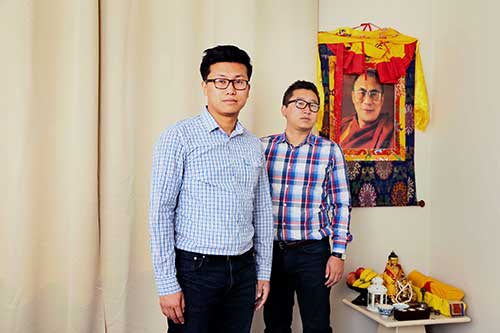 World Refugee Day is June 20th, mark the occasion by reading or listening to more stories from those who first came to Canada as refugees, from our collection: https://pier21.ca/search-our-online-collections.
Or, visit the Museum to see our new exhibition Refuge Canada, which explores Canada's place in the global refugee crisis and shares the contributions of newcomers to who came to Canada as refugees, just like Khamsum and Kunsang.