This is a story of beginnings and endings, and how one always seems to lead into the other.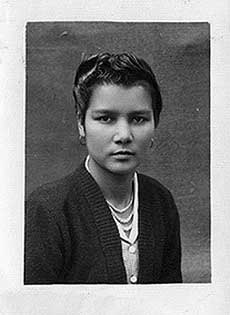 One ending was the publication of an award-winning poem, Alessandra Naccarato's Postcards for my Sister, which recently won the CBC Poetry Prize. The poem is an offshoot of a larger story that spans generations, from the mid 1950s in Southern Italy, to Sault Ste. Marie, to Montreal, to Toronto, to the Canadian Museum of Immigration at Pier 21, and is still evolving onwards. It is the story of Alessandra's grandmother, Celestina Naccarato, and as Alessandra explains, "it is a story that I have been telling in many different ways for many different years."
Alessandra picked up the torch of this story following her grandmother's decision, at age 70, to leave her second husband after suffering years of abuse. The last time Alessandra saw her grandmother was not long after this decision, and she realized how much more there was to know about this amazing woman and Italian immigrant. The realization opened a pathway. "It was life changing," she remembers, "it began this pretty deep process into finding out more about what had shaped her to become a woman who would find the strength to make that decision in her 70s."
Every story must have a beginning, so Alessandra made a pilgrimage to Laino Borgo, Italy, where her grandmother was born. "I was the first member of my extended family to return," she says. Some of the family tree were still living in the same village, and with their help, Alessandra traced family records and began to piece together a timeline of her grandmother's journey to Pier 21 as a young woman.
The bits of paper records and spoken histories allowed Alessandra to forge a narrative. Upon returning to Canada, she began to diffuse it using the tools of her craft: spoken word, poetry and theatre. "There are pieces of it that are filled in with myth and magic and writing," she explains of the body of work that was emerging, "that's my way of finding the story that really has been lost in some way."
With endeavors to have one version of the story grow into a "magical realist theatrical piece that explored the impossibility of that kind of journey," Alessandra visited the Canadian Museum of Immigration at Pier 21 to learn more about the journey taken by her grandmother, and other immigrants. Once at the Museum, Alessandra not only learned more about the journeys but found inspiration in the first-person accounts, "Some of the recollections, these visions of people with these vats of olive oil and it having to be just plunged, and taken away," she describes, "and these last pieces of what they've carried over really stayed with me."
With help from Museum staff, Alessandra also uncovered a crucial piece of information about her grandmother's journey, "My grandfather never returned to Italy but she was married to him before her departure, and that just seemed impossible," explains Alessandra, "it was the staff at the Museum who had records of how that was happening at the time… People being married over the telephone and by proxy." By proxy marriages were quite common among Italian immigrants during the 1950s and 60s, but for Alessandra the fact that her grandmother came to Canada in this way was a revelation, "it was amazing to hear that part of the story that wasn't really brought out often, and I was really grateful for that opportunity."
With this missing piece of the puzzle now found, the story was evolving into something completely different, "the play that I came there to write never wanted to become a play, if that makes sense," she laughs. Her grandmother's story was growing and changing, as though it had a life of its own.
The way a family tale can change is something that Alessandra finds fascinating. "I think that's how it is with family stories," she explains "they're getting passed, usually through different members of the family, and transforming as they pass until you have this entirely new and very old story that may be a mix of myth and truth," she clarifies "or myths that express the truths better than truth." Alessandra explores this metamorphosis in her work, while also continually considering her own place in evolution. "Myself and my sister were the first women born in [my grandmother's] line, she only had sons," explains Alessandra, "and so much has changed for us and the life that we live as artists, and as single people, the difference in our lives is so substantial."
"So it's really been this journey of tracing those origins and trying to understand how they shaped my family and myself," she expands to reflect on the many thousands of immigrants who made Canada their home, "and what that meant for the lineage of women in Canada."
Celestina's beginnings and endings lead to Alessandra's beginnings. The story she first uncovered in Laino Borgo, fleshed out at the Museum, and developed into a body of work is ongoing, and Alessandra feels compelled to continue. "These stories are kind of time sensitive," she explains "it feels like there is a kind of urgency to go back into them and piece what we can and reconnect while we still can." She plans to soon return to Italy, where her uncle purchased the house Alessandra's grandmother grew up in, and continue researching her family heritage.
"In doing that there's this bridge that forms that allows for the generations that come after me to still hold pieces of her story and understand that lineage."
Alessandra Naccarato's Postcards for my Sister won the CBC Poetry Prize, and can be read online, here.
Visitors hoping to unearth their own family's beginning and endings can do so at the Scotiabank Family History Centre.