"My name is Bwe Doh Soe. I was born in November 12 1991. I was born in the border between Thailand and Burma, and which is on the refugees' camp."
Bwe and his family are Karen, an ethnic group that makes up about 7 percent of the Burmese population. Because of their culture, Bwe and his family were among the 3.5 million people forced out of Burma. "We have been victims of ethnic cleansing more than 50 years," he says.
Bwe's first memories are of the jungle. Living in hiding along the Salween river Bwe remembers the "hut made of bamboo, we cook on the fire, we have no furnitures and we sleep on the floor." Bwe's mother was the sole caretaker of Bwe and his three siblings. She worked very hard to provide, tending a small garden, raising chickens and weaving the brightly coloured traditional Karen clothing. But it was still a life spent in hiding.
"We have no electricity, there was no such technology," remembers Bwe, "so it was totally you were just living in the jungle. And you don't see anything."
There was also the ever constant threat of soldiers. The dark snake of the river was life sustaining for fishing and bathing but as Bwe explains "river's guarded one side by Burmese soldiers and the other side by Thai soldiers, if you go further than the limitation of the space, the Burmese militia will shoot."
There were varying opinions among the families in hiding about what to do. Some wanted to stay and wait for things to change, some wanted to risk returning home and many opted for the protection of the refugee camp. Having left family and relatives back home, Bwe's mother was torn.
"My mother didn't choose to go to camp that time because she was listening to the relatives," says Bwe. She enlisted the help of a Karen soldier, and they walked home through the jungle under the cover of night. "it was very, very scary when we went back there because landmines are setting everywhere," says Bwe. Though only a child he has a clear memory, crystallized by fear, "I don't remember how old I was but I still remember following the step of the soldier" so carefully because only the solider knew the location of the mines.
Nobody expected what came next, so soon after their arrival. A warning was sent through the grapevine that "soldiers were coming to cleanse the place."
"[Noona] was aware of what was going on the said that the soldiers was racing to the village, and started burning down the houses, and start to kill the people" Bwe races through this description, controlled emotion in his voice, "All I remember my mom was grabbing my hands and is told me to run. Grabbing me so hard and grabbed some of the belongings and we ran away."
After this near escape, Bwe's mother immediately decided to make the journey to the Thai refugee camp, Mae La Oon. After a four day journey on foot and by boat, the family was registered with the UNHCR. "Refugee camp was a little bit better," remembers Bwe "the Thai soldiers were guarding you instead of shooting you."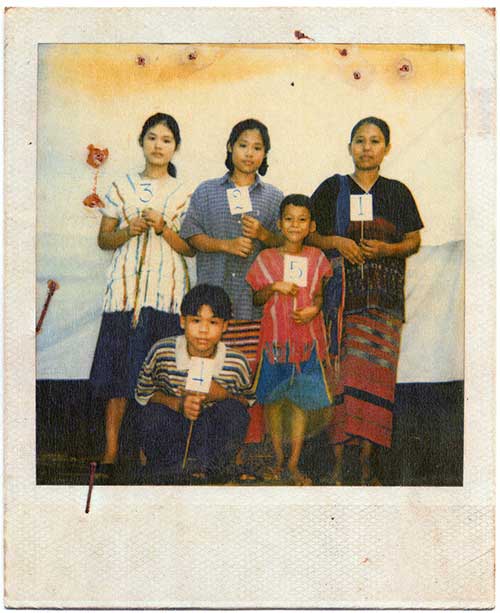 In the relative safety of the camp, the family set down some shallow roots. Bwe grew from child to teenager, never setting foot in the outside world. For the nearly 10 years the family established a routine, but one without optimism or hope. "It's just like your daily life is every day the same again," says Bwe, "we don't even understand what is hope, what is hoping to be someone, to become something. It's just daily routine so you never hoped."
It was also during this time that Bwe's brother's illness became more pronounced. He would later be diagnosed with schizophrenia, but in the camp all they knew was that he would have angry outbursts. "Camp was situation pretty hard," says Bwe, "my brother also, it's make it more harder."
As Bwe turned 15, rumblings around the camp began about a big opportunity to go to Canada, and Bwe's mother latched on to the possibility of freedom. "I think this is the only time we heard freedom," says Bwe, "that's the only time we were introduced."
One year after submitting their names the family proceeded through interviews and medical checks. The incredible journey to Canada finally impending, and teenage Bwe did not fully grasp the enormity of what was happening "I wasn't pay attention much, I guess, all I was focus was to get to see stuff. I never get a chance to travel outside of the camp. So, part of my excitement was to get on the bus, or, you know, to get in a car." Bwe's only memories were of hiding the jungle, and sequestered in the camp, for him "Canada" was just another camp.
As the journey began, it became clearer. Bwe encountered many exciting, terrifying and frustrating "firsts", from the car rides, plane rides, food, clothing and language. "It's a lot—it was a lot to learn in same times,' says Bwe. Every place the family stopped, Bangkok, Tokyo, the airport on Vancouver Island, Bwe thought "this is Canada… the place that we're going to stay."
In Vancouver, the family boarded a small plane to Saskatoon, where finally, they could stop.
With help from the Open Door Society, Bwe's family was set up in an apartment, with education, English classes and school. Bwe, who picked up English very quickly, started grade ten. Though he wrestled with a period of depression, and feelings of isolation, he soon made friends and began volunteering at the Open Door Society as an interpreter. Later he began working at the Karen language school. He also launched "the weaving project" with other members of the Karen community to pass down the tradition of making the vibrant, Karen clothing that he cherishes.
His family safe, working and his brother receiving treatment, Bwe now allowed himself to feel hope for the future, and reflect on his journey. "If it wasn't we were victims of ethnic cleansing, we won't be here in Canada," says Bwe, "even though we have gone through such traumatic circumstance, all those sort of stuff... I think those are make us as who we are, and it make us very strong.
"It's a lot, too much to take in… being blessed in this country, and able to use all the privileges."
Bwe Doh Soe's story is part of the Museum's exhibition Refuge Canada, opening March 10th.