It is late summer, 1948, and Alois Kolarik is walking along the street in Innsbruck, Austria, having recently endured a narrow escape from Communist occupied Czechoslovakia. He is tired, and unsure about the future. He happens to look up, and sees a young woman gazing into a store window. There's something about her, so he calls out a greeting. To his great surprise, she answers in Czech.
The woman is Anezka Kanova Buranova, and she is just as floored as Alois to hear her native tongue. Overwhelmed with emotion, the pair stand in the street, crying and holding on to each other. It is is the beginning of a life-long love.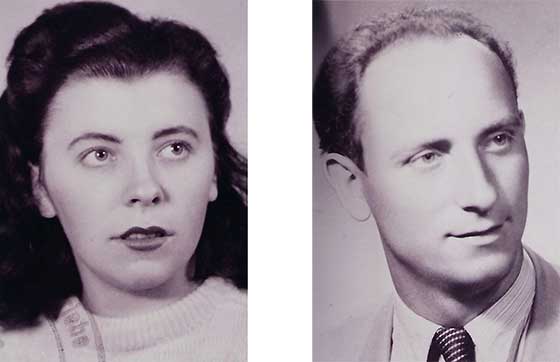 The path that brought Anezka and Alois together is a winding journey of endurance, faith and sacrifice. The incredible story was documented by Pauline Williams, the couple's daughter, and added to the Museum's collection.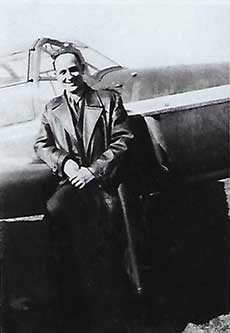 "Alois Kolarik was born August 23, 1919 in the little village of Pozlovice, in central Czechoslovakia," begins Pauline's history. In his early 20s, Alois had begun a career at the Vedouci Restaurant on the Otrokovice airfield, just as the Second World War was just breaking out. Alois spent the duration of the war working here, serving hundreds of German patrons daily. As a pilot, he also assists with plane traffic and transport.
The war ends in 1945, but in Russian occupied Czechoslovakia "communists took over the entire country," writes Pauline. To keep his job, Alois is ordered to become a member of the Communist Party. He refuses, and Pauline writes that her father is "taken away by military police to the Uherske Hradist Gestapo prison south of Zlin." Alois is imprisoned for 6 months until family friends hire a lawyer to clear his name. He is not allowed to return to his job.
With this, Alois had come to the hard realization that he must leave his beloved country, and begins to plan his escape. Along with a close friend, Josef Janecek, Alois makes contact with the underground movement, and pays 42,000 Czech Koruna to open up a route. Pauline writes that the route includes instructions to meet a man with "a long handkerchief hanging out of his coat pocket" at a station close to the Austrian border. The man lead Alois and Josef through the forest to where the Danube river touched the border of Austria and Slovakia.
"It never occurred to Alois that he would need to swim in order to escape and guess what, he could not swim," writes Pauline. There was no turning back, so with his leather suitcase on his shoulders, feet slipping along the rocks beneath the currents, Alois prays for guidance, and begins to cross. It was August 23rd, 1948, and also, his 29th birthday. From then on, it would also be the day he secretly disappeared from Czechoslovakia, and emerged into Austria via the Danube. He and Josef continue to Innsbruck by train, dodging Russian checkpoints along the way. "It was their first step to freedom," writes Pauline. Just days later he finds his Anezka at the store window.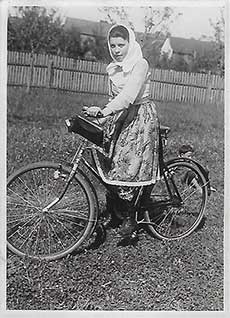 Anezka's path to Alois was equally traumatic. Pauline describes her mother as "an outspoken, strong woman whose beliefs fueled her desire to escape." Recently divorced from a German officer, Anezka had one child by him, who she was raising with help from family. A member of the Czech National Socialist Party, Anezka knew she was a target, but when military police knock on her door one night to arrest her, pure panic fuels her next decisions.
Pauline describes how "with all the adrenaline she could muster", Anezka escaped through the bathroom window and ran next door, which happened to be border guard offices, many of whom were friends. Within minutes, she is on the back of an officer's motorcycle zipping towards the Austrian border. The officer's uniform helps circumvent the usual checkpoints, and she crosses without incident. Anezka connects with colleagues in the Czech Resistance Movement, who help move her to Innsbruck.
Now with a few moments to breathe, Anezka contacts her family in Czechoslovakia to ask after her child. It is a huge risk. For escapees to communicate with anyone during this time could mean imprisonment or worse, but Anezka needs the peace of mind. Pauline writes that Anezka suffered from the turmoil of her choice, "Many painful memories haunted her… it will go down in history that this period of time transformed the lives of many people and families," she explains, "family trees were changed forever."
With the help and support from the International Refugee Program and the Red Cross, Alois and Anezka are now on track to immigrate to one of the countries that had opened their doors, among them, Canada. On April 14th, 1949 Alois and Anezka board the T.S.S. Nea Hellas in Neopol, and 9 days later, land at Pier 21 in Halifax, Nova Scotia. "Imagine the drive and tenacity they had to leave behind their beloved country and family," writes Pauline, "no language, few possessions and little money, just a strong yearning to start a new life with freedom and the courage to come to Canada on a Ship of Dreams."
Though Alois and Anezka are briefly separated after their arrival, Alois in Perth and Anezka in Ottawa, an unbreakable bond had been formed. Alois immediately began work, and save money with the sole intention of bringing Anezka to him. Within months they are reunited and married.
In their new hometown of Perth, Ontario, they earn respect for their hard work and gratitude. Anezka, known among her community as Agnes, starts a bakery and catering business and is celebrated for her beautiful cakes and other culinary creations. "Her memory lives on in many families and generations because of her amazing works of art," says Pauline. Alois, now known as Al, begins what will become a 41 year long career with Perkins Motors. Agnes and Al have three daughters and one granddaughter, all of whom became members of the Royal Canadian Mounted Police.
Agnes and Al were married 58 years. The bond they formed that fateful day in the streets of Innsbruck never faltered. Agnes passed away in 2007 and Al joined her four years later. Their legacy was their desire to build a better future, and for Pauline and her siblings, their journey of "unending courage, bravery, sacrifice and pain was not in vain."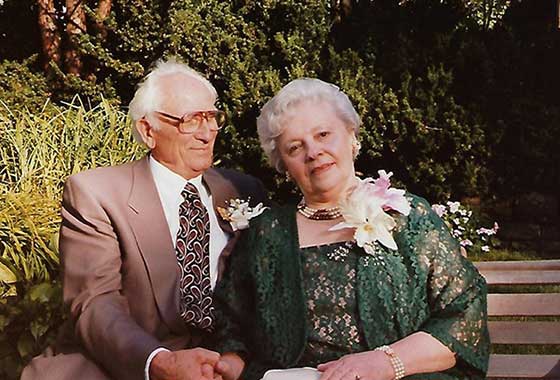 More of Pauline Williams' story of her parents' incredible quest to freedom can found on our website >