Tian Xiaomei, known as May Tian, moved to Canada from Yanquan, a small city located in Shanxi province, China, just over ten years ago. If there's one thing May misses about China, it's Chinese New Year.
"It is 15 days of celebration," she says, and adds that almost everyone takes the whole week off for the very family centered holiday, "we always take this as the biggest holiday for Chinese people."
Chinese New Year, also known as Lunar New Year or Spring Festival, happens on the new moon of the first day of the year in the traditional Chinese calendar. In this calendar, months are based on the lunar cycles so Chinese New Year moves around between January 21 and February 20. This year it falls on February 16.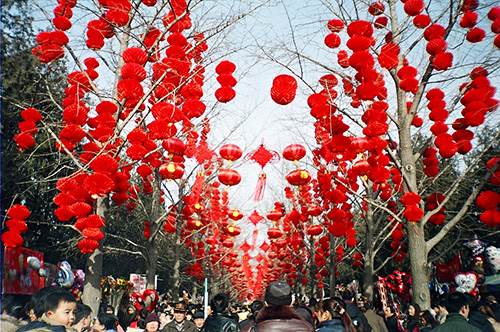 Chinese New Year practices include passing out red envelopes of new money, fireworks, gift exchanges, music, and is a celebration steeped in ancient history, culture and tradition. Some of the oldest traditions are superstitions like no haircuts, lest you "take off the luck from the head," as May describes. Or not being allowed to touch needles. Though younger generations no longer adhere to the old traditions, May does remember her grandmother scolding her for touching a needle.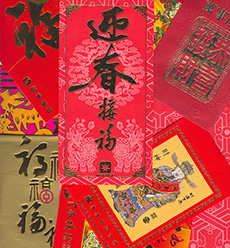 Food, of course, is a huge part of the celebration and "each family has their own way to cook stuff," says May, "even the same name of the dish, but you add a different recipe so everyone's tastes different." Among all the dishes, dumplings are a theme, "No matter what kind of other food you eat, you always have dumplings," says May. Traditionally food is passed around the neighbourhood, and May recounts with delight the joy of tasting other families' recipes. "I always taste my neighbours dumplings, they taste much better because I'm so used to my dad's recipes," she remembers, "and other people think my dad's dumplings are the best!"
May's dad is the star cook in her family, and like many around this time of year, he begins prepping food early. May describes how he buys a pig head weeks in advance, "then he will clean and do everything by himself because he's really kind of perfectionist," she laughs, "he always takes all the hairs off the head, makes it very clean." He uses the many different kinds of meat from the head to make a variety of dishes. It's a time consuming process.
The huge amount of planning is to be ready for the massive amount of hungry visitors. We all anticipate family visits during the holidays, but remember how big China's population is, "imagine everyone moving," explains May, "all people try to take plane, train, bus, even ride a motorcycle from where you work or study to go home." The migration of people over the New Year is so incredible that there is a term for the phenomenon: "Chunyun," which means "spring movement."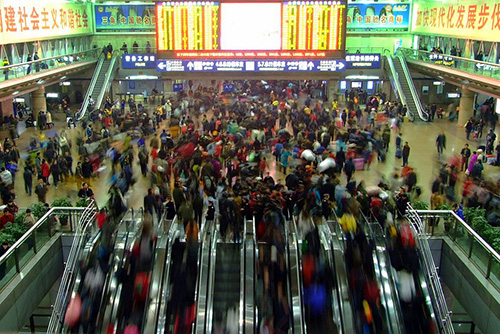 One New Year, May was on her way home by train. Her classmates were seeing her off, but because the train was so full she couldn't get in the door. So May improvised, "somebody opens a window and my classmates have to push, hold me and push my legs and foot through the window." Incredibly, May boarded the train this way and made it home for the New Year's feast.
The stress of chunyun travel is something May is glad she no longer needs to endure. As of 2006, she lives in Halifax, Nova Scotia, with her Canadian husband, and stepdaughter. Her Chinese New Year is much quieter, but she still finds ways to incorporate the traditions such decorating the dining room table with a red tablecloth, putting paper cuts in the windows, and hanging lanterns. She also makes dumplings with her husband and stepdaughter. Chinese cooking during the New Year makes May miss her father's skill in the kitchen, "I'm not a really good cook," she says "but I kind of have to do this, I'm the only Chinese inside of my house!"
"After a couple years practice I think I could put something together on the table," she jokes, "but they're always very supportive," she says of her family, "they always say it tastes good."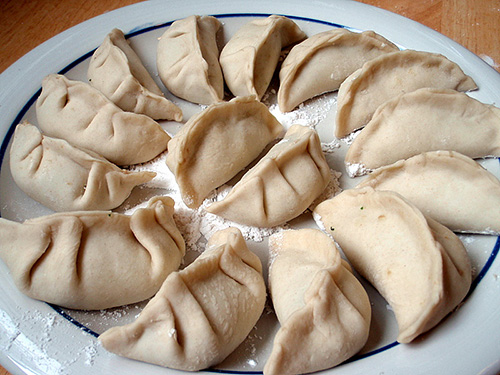 The simple act of connecting with family is what is most important to May. She makes time to telephone her family in China, carefully scheduling the call so that it lands on their New Year, 12 hours ahead. She wishes everyone she can a Happy New Year through the noise and commotion she can hear in the background. Though she misses them, she enjoys being able to share her Chinese culture in Canada. "Advantages of me is living in two cultures is I can absorb the essence of both cultures," she explains, "so it makes me feel really honored to have that kind of experience."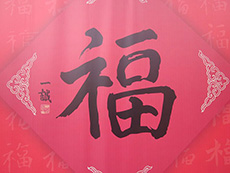 May looks forward to celebrating at the Canadian Museum of Immigration at Pier 21's upcoming Lunar New Year event, on February 10th. She will be taking part as a representative of the Confucius Institute at St. Mary's University, where she is the secretary, and will be helping with activities like writing the Chinese character "fu" (fortune) on red paper.
Of what it is like to celebrate Chinese New Year in Canada, May says she hopes "everyone in the community is going to cherish each other's cultures." While the origins of traditions differ, the reasons for celebration, like family, togetherness and being thankful for another year, are the same. Or, as May says, "a lot different, but fundamentally we're the same."