The letters are yellowed, some torn around the edges and carefully preserved in chronological order. The graceful calligraphy slants right, as though the writer is peering into the future.
These are the love letters of Francis Clifford Coffin, Cliff, a Sergeant in the Canadian Army during WWII, and Dorothy Sears, his Dot. Though their story is not unique, nearly all Canadian military deployed overseas from Pier 21, and many goodbyes were had, they are symbolic. These fragile papers travelled through time and represent not just an eternal love, but the sacrifices made by so many at war and waiting at home during those dark years.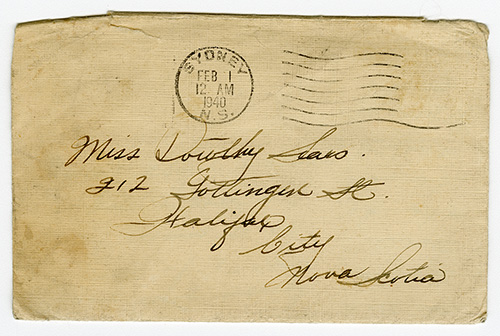 "Jan. 31, 1939
Sydney, CB
Dear Dot…"
It was immensely difficult for Cliff to say goodbye to Dot. The first cold day of training in Sydney he had only one thing on his mind, "I never knew I'd miss anyone as I've missed you in the last few days." Cliff wandered through the barracks in a trance, tears streaming down his face.
"When I left you the other morning I felt as though I'd left my heart behind too."
Feb. 14, 1940
It takes time for Cliff to adjust to his military barracks, and separation from Dot. Being able to visit on weekends helps morale, but long distance is hard, "I am sorry darling that I wrote you a nasty answer to your letter because now I know you didn't mean it."
"But nothing you could say or write could make me stop loving you."
Click image to see the full size photo.
Feb. 19, 1940
For the young couple, saving money is a priority, "I hope to start and save this pay but it's going to be awfully hard," writes Cliff.
Cliff and Dot are probably saving for their wedding planning and own apartment. A proposal would have occurred around this time, as letters following are full of hopeful plans.
"The sooner we are married the better," says Cliff, "this is just like getting married by remote-control."
Cliff urges Dot repeatedly to "go on up to the house," to spend time with his mother, and to "go down to the priest." The instructions some directional concept of his mom's house and the church, and underline the importance of family and faith in the partnership. "What does your mother and father think of your becoming a catholic?" he asks.
"PS - I'd rather kiss your sweet lips than this paper. So long dear."
Feb (unknown) 1940
Time passes and letters travel across provinces. Dot must have heard some gossip or unwanted advice from her circle as Cliff writes, "Please don't believe any of the things your friends have been saying. If they could have seen my heart when I left you that morning in the steps and turned around and waved they would understand and believe everything I say."
Dot may have been concerned about a long engagement, but Cliff tries to explain, "We can't get married in Sept so we will let it go a little longer. You know we hadn't made any special date."
As it turns out Dot gets her way for a fall wedding. Family records indicate they are married September, 1940, and letters are hereafter signed "your loving husband, Cliff."
"On Active Service
Thurs, Mar. 5, 1942
Railhead Supply"
Now only an hour away in Debert, Cliff still finds himself overwhelmed by homesickness, "You know sometimes when I get thinking of you and Chips and our little flat I begin to see happy things in front of me and I realize I am shedding a few tears," he writes in March of 1942.
Chips is a pet, perhaps a cat but probably a dog. "Whatever you do darling DON'T part with Mr. Chips. I certainly think a lot of that bundle of mischief."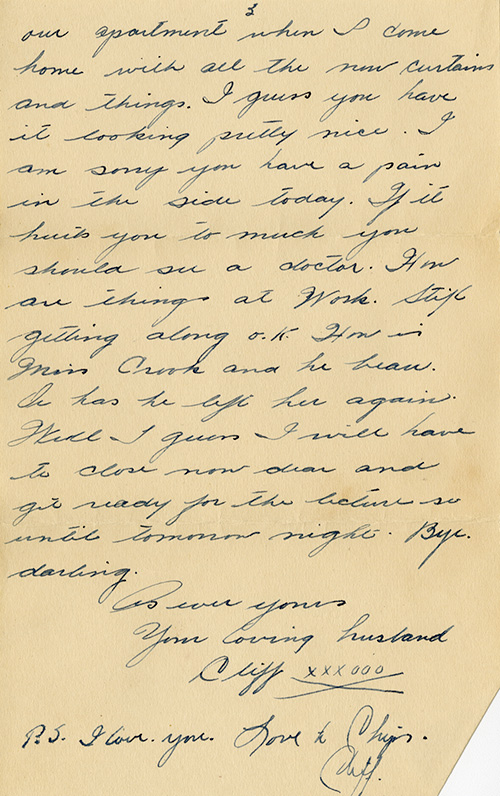 "Canadian Legion War Services
Mar. 8 1942"
It's clear Dot alluded to some big news. "I have been wondering all day what it is you have to tell me when I come home," writes Cliff "won't you tell me now or must I wait until I come home?"
That weekend, Dot probably shared the news that she was only weeks pregnant with their first child, who would be born that November. Letters following include a closing message to his daughter, Diane, "X Daddys special to Diane."
"66 Cdn Gen Tpt Coy
Can Army Overseas
Jan 12 1944"
Cliff is in Germany. Without any possibility of weekend visits, the letters are even more heartfelt, and full of earnest longing.
"Can I explain how much I miss you darling. A thousand times a day in a thousand different ways."
"Cdn Army Overseas
Jan 30 1944"
Cliff's responsibilities increase, and he is cannot write as often, "I have a new job now and things have really been happening in my department," he explains, "I have an officer over me and a clerk of my own and between the three of us we are kept very busy these days."
Cliff notes that keeping busy helps him forget how sad he is. Often while writing his Dot and Diane, who would be just over a year old, his emotions bubble up, "Right now I feel like crying because I realize I am missing the most beautiful things of my life."
"66 Cdn Gen Tpt Coy
Can Army Overseas
2 Feb 45"
An optimistic letter from Cliff notes "things look pretty good for the American side and I suppose when you get this they will have been in Berlin," he muses, "I sure hope someone gets there darn soon and winds this thing up once and for all."
For this couple the end of the war signals one thing, the chance to be together a make up lost time, "Here it is nearly two years," he cries, "two years and then some of happiness blown to hell."
"Darling can we ever make it up. I think we can darling so long as we are together, you and I and Diane."
"66 Cdn Gen Tpt Coy
Can Army Overseas
5 Mar 45"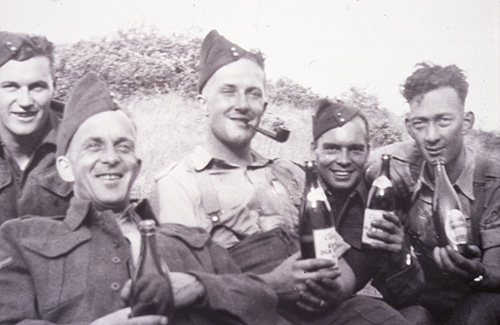 Cliff is stationed in Holland and continues to miss the small comforts of home. He relies on Dot's parcels for simple life necessities, "I am rather short on a few things such as toothpaste, black shoe polish, a few packs of pipe tobacco and a pipe…"
"You will never know what a parcel can do for a fellow's morale darling."
Cliff continues to feel hopeful for the end of the war, and shares some rare information about military movements, "I understand the whole shi-bang have crossed the Rhine so we don't give the war much longer," he writes, "I certainly hope so."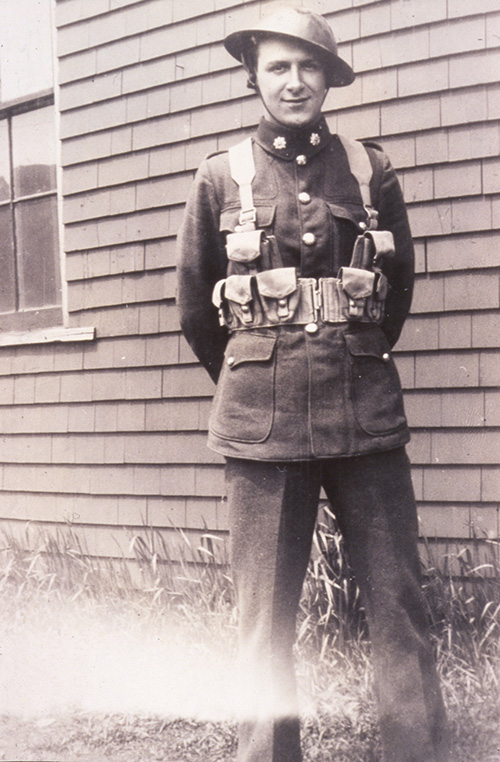 "66 Cdn Gen Tpt Coy
Can Army Overseas
29 July 45"
And all of a sudden the moment comes. "Yes my darling I am coming home."
It is hard to imagine imparting such huge news through a letter, thrown across an ocean. For Dot, these words would have been overwhelming.
"My darling this is the good day we dreamed of. This letter is the beginning of our chance at happiness."
The letters between Cliff and Dot recently inspired their granddaughter, a choreographer, to create a series of contemporary dances called Letters from the Front. On Remembrance Day, Letters from the Front will be performed through the Pier 21 story exhibit as a tribute to Cliff, Dot and the Canadians who served and sacrificed on the battlefield and the home front.