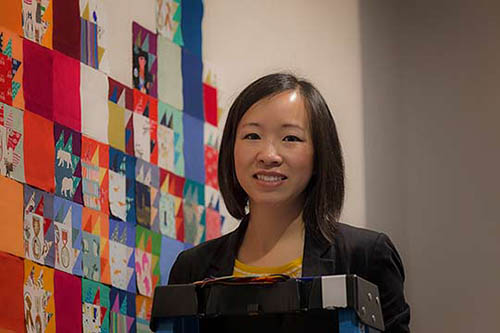 Andrea Tsang Jackson, self described "designer and maker" carefully adheres a blue fabric appliqué with an iron, making sure it is facing in the direction that the visitor has indicated. She is creating a quilt block with fabrics chosen by a museum visitor. The simple block, a traditional "Bear Claw" pattern, will become one of what Andrea hopes to be more than 900 contributions to an enormous colourful collaborative quilt, a huge project that Andrea has entitled the "Here and Elsewhere Bee." Andrea is the artist in residence at the Canadian Museum of Immigration at Pier 21, and her project gives a physical representation of the theme of "Arrival" in the Canada: Day 1 exhibit.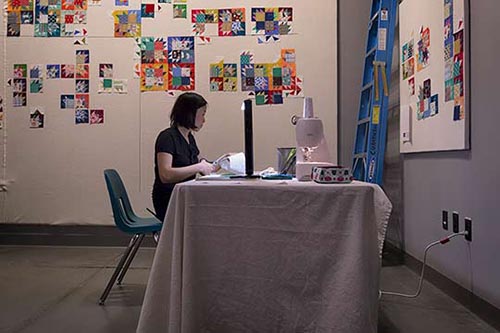 As Andrea irons, the young woman who selected the fabric piece tells the story of her family's journey from Syria to Canada, and explains why the blue represents her ancestors' first impressions of the Canadian landscape. When new visitors wander in to the exhibit space, Andrea welcomes them and encourages them to create a block by choosing from a selection of fabrics displayed in vintage suitcases. She asks them to choose a fabric that represents why or how their family came to Canada, or what Canada means to them. Every single square on the quilt, more than 250 so far, is accompanied by a story that Andrea listens to, and records a few notes about in a large journal.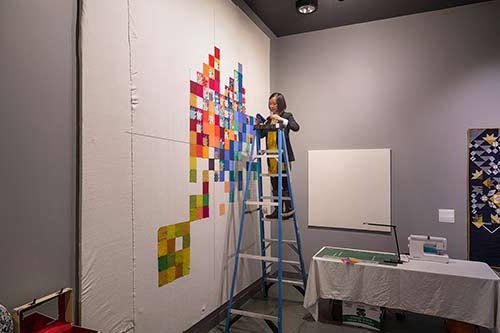 Suspended from a huge, almost 12 foot tall template that Andrea uses a ladder to access, the quilt is slowly but surely taking shape with visitors' many blocks. Many of the stories that accompany the blocks share themes and Andrea has grouped blocks with similar motifs. She points to sections about nature, gardening, flag colours, industry, freedom, bravery, journeys, farming, dreams, love, new life, opportunity, and others. The fabrics, donated by Patch Halifax, are printed with abstract colourful patterns, as well as more realistic prints of animals, nature or people.
"I love how fabrics can transcend culture," says Andrea and points out how many different people with different backgrounds would choose the same print to symbolize their story. One of the largest sections of blocks, including Andrea's own block, are of ones that represent people's ancestors. A repeating fabric here is printed with a woman with pinned up hair. Andrea explains that this fabric was chosen by several visitors with different European, Asian or African backgrounds to represent a grandmother in their family.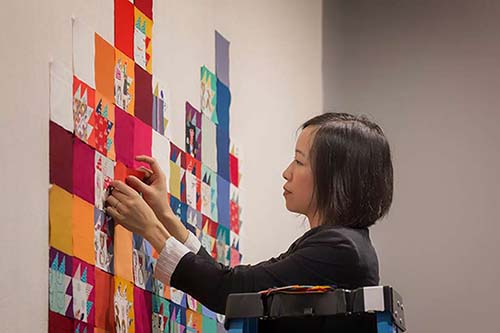 "The opportunity for visitors to create a block facilitates the storytelling," says Andrea, "by this point in the exhibit the visitors are often ready to let some things out." To demonstrate, Andrea points to a block that contains a fabric with bright pink flowers on a navy blue background. This fabric was chosen by a man originally from the Philippines for whom the navy blue symbolized masculinity, something that is celebrated in Filipino culture, and the bright pink flowers symbolized femininity. For this visitor, the joining of the two colours in the fabric represents his ability to express both masculinity and femininity in his new Canadian home without fear of reprimand.
Along with a way for visitors to share their immigration stories with the world, the project is also providing an opportunity for Andrea to "turn outwards, and really engage people in what modern quilting is." Though she has only been "seriously quilting" for a year, Andrea notes that as an artist she often finds that she is working in isolation, so this project's unique, collaborative improvisation has been inspirational for her. She loves collecting the stories and blocks, and enjoys not knowing exactly what the final project will look like. The simple pattern also allows the project to be accessible to everyone, regardless of age or skill level. "There is no need to be an expert quilter, or even to be very artistic to contribute" says Andrea.
The "Here and Elsewhere Bee" project will be on display, and under construction in the Canadian Immigration Hall until October. Andrea welcomes any and all visitors to create a block, share a story, and contribute to this incredible quilt.
This year's Artist-in-Residence program was made possible thanks to a special gift from Canada 150 Ambassador Fred Fountain and his wife Elizabeth.