It may not come as a surprise for many that the head of the National Arts Centre used music as a tool to learn English.
But while the circumstances surrounding Peter Herrndorf's use of music were less than ideal, it helped steer him down a path to become one of this country's best known champion of the arts.
In 1947, with their sons Peter and Fred in tow, Anna-Maria and Bob Herrndorf left the port of Rotterdam and a war-ravaged Netherlands behind for a new life in North America.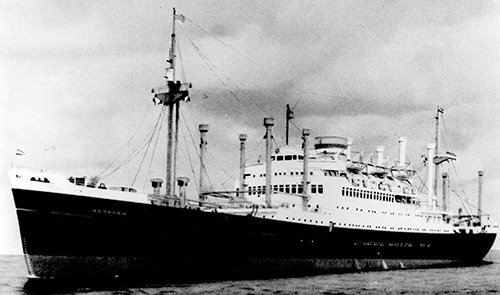 On the 10-day voyage to New York City, Peter Herrndorf, a precocious six-year-old, listened to "Yes! You Have No Bananas" and "I'm Looking Over a Four-Leaf Clover", two popular songs of the day on constant repeat.
"When I went across on the boat, I knew really no English at all," he said in a recent interview.
"I sang them enough onboard the ship that by the time we landed in New York I was speaking at least a little bit of English," he added, laughing when the irony of the future president of the NAC using music as a learning tool was pointed out.
"It's not something people have commented on, but it is true that it was the most powerful form of expression on that ship as we were going across the ocean. Most of my family was seasick, and my father was eating and I was singing Hit Parade songs."
Click each image to see the full size photo.
The family lived for nine months in the New York City area before making their way to Winnipeg by train, with help from Stanley Knowles, a local Member of Parliament and friend of Herrndorf's uncle, who was already living in Manitoba.
They arrived in Winnipeg on March 18, 1948 in the dead of a harsh Canadian winter.
"None of us, for the life of us, could understand what we were doing in a place where it was 40 below," he said.
"But from my parents' point of view, it was exactly what they had dreamed of, that this was a place where their kids could grow up and hopefully live interesting lives and that's what happened."
In the 1990s, when Herrndorf was chairman and CEO of TVOntario, he had a meeting with Ruth Goldbloom, who at the time was spearheading a fundraising drive for the restoration of Pier 21 in Halifax, where nearly a million new Canadians had landed.
"About four weeks later I hosted an event in my home in Toronto for about 100 people with Ruth as the guest of honour," he recalled. "And most of the people in the room were Canadian immigrants and these were people from radio, television, theatre, business, law – a very interesting cross section – and Ruth absolutely dazzled them."
In 1998, to mark the 50th anniversary of their arrival, Herrndorf, along with his brother Fred and sister Kiki, were looking "for a way to say thank you to Canada for what Canada had meant for our family".
That's when they decided to make a donation to the non-profit Pier 21 Society, which was working to construct a museum on the National Historic Site.
"Because of what Pier 21 symbolized for new Canadians, we decided that we would sponsor the front door of Pier 21 as a way of saying how important that front door is, welcoming new Canadians to their country and we dedicated that front door to our parents," he said.
In 2015, after 16 years as president and CEO of the NAC, he was awarded the inaugural Peter Herrndorf Arts Leadership Award, an acknowledgment of lifetime achievement in support of the arts.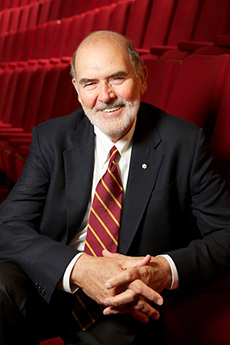 He donated a third of the $10,000 prize to the Canadian Museum of Immigration at Pier 21, with the remainder going to the NAC and the Canadian Museum of Human Rights in Winnipeg, all three institutions that remain close to his heart to this day.
He is a proud member of the Pier 21 Club, a group of some of the Museum's biggest financial donors.
And even though his family did not land in Canada through Pier 21, he feels a strong bond with the site for what it represents.
"There's no question for me that immigration has been one of the major ways in which Canada has become the kind of country it is in the early part of this century," he said.
"I have a whole bunch of close friends who are all from immigrant families, and what they all say, they all remark on the fact that the most passionate Canadians, the most nationalistic Canadians, are the Canadians who came here as immigrants."