On September 3, 1939, two days after Germany invaded Poland and the very day Britain declared war, the Athenia, an unarmed passenger ship en route to Montreal was sunk by a U-boat U30. Of the 1,103 passengers and 305 crew, 112 people died.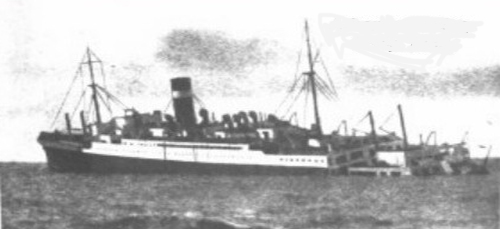 Vivian Hunt was three years old when she, her mother and sister boarded the Athenia to return to Canada after a holiday in England. Philip Gunyon was seven when his mother sought the safety of Canada for her three children in, what she thought, were the final hours of peace in Europe.
Vivian and Philip have both generously shared their memoirs of the ordeal and their rescues. Both stories, and many others, are tributes to the men who helped them and to their mothers, both of whom showed bravery and singular focus on ensuring their children survive.
Vivian
"In the summer of 1939, my father Reginald Hunt made arrangements for his wife Margaret, and their two daughters, Cynthia aged five and Vivian aged three, to revisit family and friends in Britain. The visit was an important one for my mother; her father had died early in 1939 and she was anxious to comfort our grandmother, as well as convince her that Canada was indeed a civilized "colony" in which to live and raise a family. However as threats of war with Germany became more pronounced, our mother wired my father (then on a business trip to Halifax) and announced that they would cut their visit short and return to Canada.
Philip
"In the early morning hours of Saturday, 2nd September, 1939, my mother, younger sister, brother and I left our home in London, bound for Canada. Father was in Brazil, where his company had posted him several months before. We passed through sad, quiet streets to Euston Station. Silent, tired people were setting out to work; children with gas masks in cardboard boxes slung around their necks were on their way to school.
The threat of imminent war hung over the whole country. Yesterday's newspapers had announced Hitler's invasion of Poland and that Britain and France had now completed mobilization of their armed forces.
Vivian
A day into the voyage, Mum fed Cynthia and I early, put us to bed, and left us in the care of a steward while we slept. She then dressed for the 7:00 p.m. sitting in the dining room. As she left our quarters, she heard a loud noise.
Philip
Lying in my bunk in the dark cabin, I was not quite asleep. Suddenly I heard and felt a terrific thump... it was severe and the huge ship suddenly lurched and took on a decided list, then slowly went dead in the water. I sat up in the bunk and waited. I have no vivid memory now of fear, only a wondering of who would come and tell us what next to do. The stewardess arrived first, followed very soon by mother.
Vivian
Rushing back into the cabin, she (mother) shook us awake and began to walk us to the stairwell. By the time she had reached the stairs, the ship was in darkness. Carrying me, and holding onto Cynthia's hand which she was forced to release while she felt for the stair railing, she made her way to the deck. Cynthia still remembers her fear, as the water on the stairs crept up to her knees.
Philip
Together, the stewardess and mother put life-belts on my sister Barbara and I. Little Andrew was too small for one, so putting on a life-belt herself, mother lifted him up.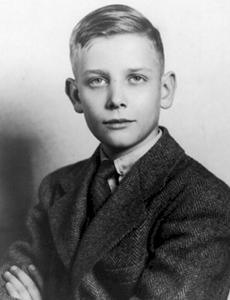 It was very dark and I suggested that we should get the flashlight from the dresser drawer. With Andrew and Barbara in her arms and followed by the stewardess and I, we moved into the passage. It seemed smoky and smelt of cordite. The smoking room floor was wet and mother fell. But she was up again quickly, and moving through the swelling crowd, we hurried to our boat station to see the boat being lowered as we arrived. The stewardess gave us two blankets and mother gave her the flashlight as she wanted to return to see that all her passenger's cabins were empty.
Right after the explosion, mother had taken off her skirt in order to move freely. I was wearing only pajamas and Barbara a nightie. Andrew had on his pajama jacket. Mother took off her blouse and wrapped it around Barbara and her stockings were put on Andrew. This left her just decent. Then she dropped one of the blankets and somebody took it away!
Vivian
In subsequent years, Mum never spoke of the night she spent in the lifeboat, although she did remember that it was a calm and balmy September evening. Cynthia recalls that the weather was warm and that the swells on the ocean rocked the boat, she also remembers that her feet were in water and that she thought the boat must not have had a bottom. My only memory is that of sitting on a bench in a boat with very high sides. I also remember that Mum was sea sick, and that I asked her to be sick over the side of the boat!
Philip
Although the lifeboat was crowded, nobody panicked. There was water in the boat up to our knees and the seats were wet and cold because the lifeboat's drain plug was not in place and could not be found. People took turns bailing to keep the boat from filling up. After an hour of frantic searching, someone found the drain plug, to everyone's great relief. Although the sea was not very rough, some people were being sick. Others struck up a hymn and tried to keep spirits up by singing. That lasted for a while, but eventually everyone settled down to wait for rescue and try to keep as warm as possible.
(Click each image to see the full size photo.)
A 12 year old girl gave Barbara and mother her rug. She was wearing a warm dress and had noticed that Barbara had only a nightgown and mother her three pieces of underwear. Toward morning, I got close to mother and she pulled me to her. The three of us huddled under the rug like a tent, to keep off the rain and the wind. What a joy it was!
Vivian
The family was picked up early September 4, by the Southern Cross, a luxury Yacht owned by Swedish manufacturer and millionaire Wenner-Gren. Cynthia remembers being awed by the luxurious appointments on the Yacht. She remembers the oriental rugs and the grand piano…Since the Southern Cross was returning to Sweden, its exhausted passengers were given the choice of returning to Britain, or continuing west to Canada, ten days away. I feel confident in suggesting that she must have been filled with terror about the possibility of unknown perils ahead, considering that she had arrived on the Athenia's deck in time to see the U Boat, and saw the ship being strafed by gunfire. Mum turned to us and asked our advice, back to Granny, or on to Daddy! There was no contest, Daddy won hands down! The family was then transferred to the City of Flint, an American freighter bound for New York, but subsequently diverted to Halifax to accommodate the Canadian survivors.
Philip
One of the destroyers, H.M.S. Electra soon drew near to our lifeboat. We heard words of warning, "sit still", "keep your heads", "just be patient". Then we were alongside. Down came a rope ladder, followed immediately by a great, tall sturdy sailor. One look at him was enough - we were safe!
More sailors dropped into the lifeboat and began to get us aboard. Children first, we were boosted up and had to jump for the rope ladder as the boat came up on a swell. Here mother got her only injury, a bruised leg, when she swung onto the ladder and just escaped catching it between the lifeboat and the destroyer. Her only recollection of the ascent was "Thank goodness I was a once a gymnastics teacher!". As her bare feet came into contact with Electra's solid deck, she knew that all four of us were safe and her next thought, from deep in her heart, was "Thank God for this".
Vivian
Cynthia recalls…the crew diverted their attention by allowing them to play with the ship's mascot, their dog! The kindness and caring of the crew was noted again when they provided a birthday party of sorts for Cynthia, who turned six, on September 13. They provided her with a bread and jam "cake" with toothpicks for candles. In subsequent years she has had flashbacks of life on board the City of Flint. Sour milk triggers long forgotten memories of our days aboard our rescue ship.
Normally the City of Flint carried six passengers; however on this voyage twenty nine had booked passage. Thus additional food had been taken on in Glasgow. These provisions miraculously fed those additional 216 Athenia survivors for the ten days the freighter was at sea.
Philip
The sailors took us below and brought tea and dry blankets. Their complete understanding and wonderful kindness released bottled up feelings and the tears of gratefulness and relief came to her. We had all been separated coming aboard, and I was taken over by the torpedomen's mess. Slung up in a hammock just under a beam, I fell asleep in the warmth, crying for my drowned stuffed animals.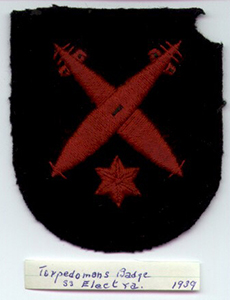 I don't remember how long I slept, but when I woke and sat up suddenly, I hit my head hard on the steel deck overhead! Lying in my hammock and feeling quite seasick, I asked where my mother was. The torpedomen soon found her and re-united us. While we waited, one of them gave me an old Leading Torpedoman's arm badge. I have it still today… I recall eating so many chocolate bars that I got sick and wasn't able to eat them again until the war was nearly over. But afterwards we were taken on deck and the clean fresh air cleared my head and I felt good once more.
As our turn came to disembark, one of the torpedomen, Jack Phelan, approached mother and pressed something into her hand saying, "Please take this; the men of my mess have collected it for you and the children, knowing you are without money or clothes". This gesture meant a lot to her and she could not reply. She held back tears, her throat hurting and eyes burning until he was gone."
Vivian
Seventy years have passed since the sinking of the Athenia, and while my sister and I have overcome whatever trauma it caused, this was not true for our mother. The anxiety engendered by that incident remained with her forever. She never visited her family in England again, although she lived until she was 94. Always an intense, introverted person, her desire to take personal risks evaporated. The protective instincts every mother feels for her children were intensified and her fears for their safety almost overwhelming."
Philip's mother's letter to his father:
Tuesday Sept 5th /39
My Darling,
I can't write much, someday I will tell you, not just yet. I won't look back. Just feel so thankful that we are all safe & well. I was in the dining room when it happened & was given some wonderful strength to get through the darkness to the children. Philip was so wonderful, I am terribly proud of him - so cool-headed. Suggested the torch, came to the muster station alone.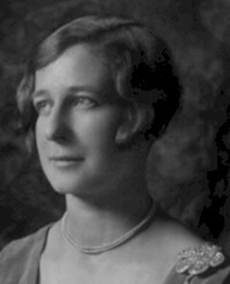 Cecil, he was wonderful, all three were in that long 12 hrs. on the life boat. I really don't want to talk about it now. Keith had a friend find us here in Glasgow (we came from Greenock) This friend has been wonderful & tomorrow we go to London & Devon. Keith has found a place near Alice & I want to take the children away for a bit until we can forget & get rested. Keith has been wonderful, everyone has. I can't look far ahead & don't know what we shall do - sufficient to go to Devon now… I couldn't even think of saving anything but the children…I am so thankful to be here with the children. When the thing hit us I knew for your sake I must save them…Oh God war is terrible & especially Hitler's kind - I do pray it will soon end.
It didn't.
Looking back on what followed gives us a profound sense of how extraordinarily lucky the Hunt and Gunyon families were. Each was helped by the Athenia's crew, their fellow passengers and their rescuers. They were blessed with a glimpse of humanity at its very best on the eve of a long 6 years that would see it at its worst.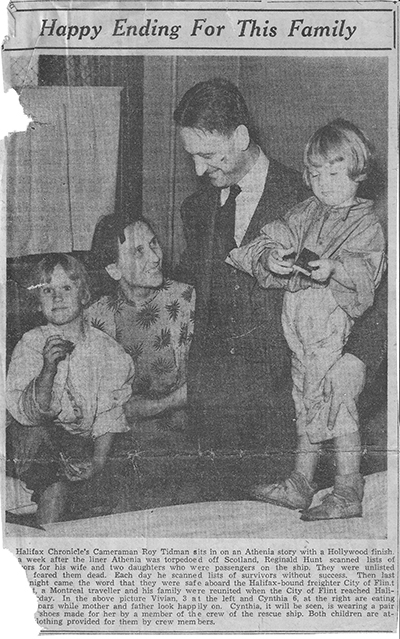 For larger article text, click below: