Written by Kevin Yip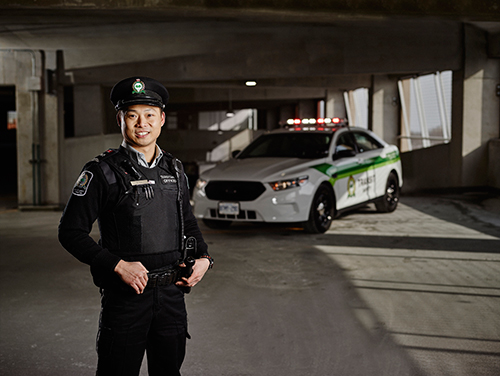 December 10, 2012, a day I will never forget because on that morning, I was recruited as an Auxiliary Police Constable, a long goal I strived to achieve since I arrived in Canada in 1999 as a foreign student.
It truly feels like it was just yesterday when I arrived in Canada. I was 15 years old and like many teenage foreign students, I came to Canada for the education and a chance to live a great life. My parents are both teachers in Hong Kong where I was born, but unfortunately, I wasn't doing very well in school over there. In August of 1999, I came to Canada to visit my uncle and it didn't take me long to fall in love with this great nation after stepping off the plane. The air, the environment, the people, the culture and the lively vibe of the city, things I had never experienced before.
I begged my parents to let me go to school here and I promised them that I would try my best to build a good life here. Seeing the very first serious commitment I had ever made at that point of my life, my parents decided to let me try. Who would have expected, I kept my promise for the next thirteen years and excelled in many areas. I have established my life here, my first time going to an English high school, finding my first love, enrolling in my first University and receiving my first Bachelor Degree.
Then reality struck, I had to leave because my temporary status as a student was expiring. At that point, I had never been as sure as I was that I wanted to stay, I wanted to pursue my dream here (which was being a police officer) in this new home of mine. I wasn't from a wealthy family so I couldn't immigrate under the business class, but I knew that if I worked hard enough, I would find a way to get through the immigration process. And so I did, I spent the next two years building up my qualifications so I could apply for a permanent resident status. The process was full of ups and downs and hardships, but I didn't give up, I knew it would all be worth it one day.
In 2009, I was granted my permanent resident status. I then spent the next three years patiently waiting to apply to be a Canadian Citizen. The process was again, full of ups and downs.
In July of 2012, I had my Citizenship ceremony and I could finally call myself a Canadian after thirteen years. Finally, in December of 2012, I became an Auxiliary Police Constable.
To many born Canadians, my story might not be much of a deal. But if you are reading this and you are in the immigration process, I am sure you will understand the hope to have a better life and to be a part of this great nation. I know sometimes you will question yourself why you are going through this, but let me reassure you that the day when you receive the citizenship status, it will all be worth it. When you are about to give up, try to look back and remember all the good things that got you falling in love with this country in the first place, I know it worked for me. Speaking from experience, Canada is truly a place where if you work hard, you will live well.