We have some very precious things at the Canadian Museum of Immigration at Pier 21. Some are hundreds of years old and others are relatively new. One of our many treasures is ninety years old.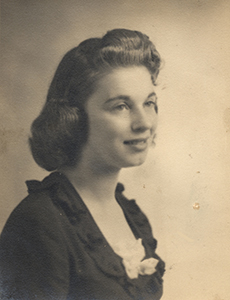 Marianne Ferguson was thirteen when her father saved his family from the Holocaust by gaining permission to come to Canada. They arrived at Pier 21 on March 7, 1939 and were welcomed by Sadie Fineberg of the Jewish Immigrant Aid Society. She introduced them to so many kind people that they decided to remain in Nova Scotia instead of going on to Montreal as planned. While the war in Europe raged, Marianne's father, a pharmacist, and elegant mother became farmers, good ones.
After having been treated so well when they arrived Marianne and her mother returned to Pier 21 after the war. They gave help and love to those who, unlike their relatives in Europe, had survived the Holocaust.
Many years later, J.P. LeBlanc and Trudy Mitic were writing Pier 21: The Gateway that Changed Canada and Marianne was called for an interview. Memories of her mother and their post-war volunteer work flooded back when Marianne joined the authors in the as yet un-renovated shed at Pier 21 for the book launch. She offered to help the Pier 21 Society as they worked towards making the shed a National Historic Site. Years passed as J.P. LeBlanc, Ruth Goldbloom and many other volunteers made the dream of a museum at Pier 21 a reality.
In 1999 Marianne's first volunteer job was the unglamorous task of unpacking boxes of products and pricing them for the gift shop. Once the museum opened she began giving powerful tours that combined her personal story with the history of the site. She hosted hundreds of groups from school children to visiting ambassadors, always inspiring a reverence for Pier 21 in her guests. When standing for long periods of time became a challenge, Marianne took up the enormous task of typing hand written immigration memoirs, sometimes the length of books. Hundreds of memoirs are accessible today thanks to her painstaking work.
It was during this period that the Atlantic Jewish Council received a call from a Holocaust survivor in Montreal. Nathan Wasser was on a quest to find the woman and her daughter who had given him $20.00 and told him that everything would be okay and that he would be a good Canadian. Nathan had never forgotten them and so in August of 2003 they were reunited at Pier 21. They remained close friends until his death in 2015.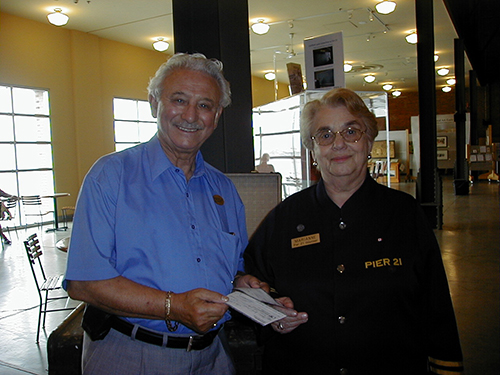 Marianne has hosted special visits for survivors of the St. Louis and international dignitaries. She has translated documents from German, contributed to exhibitions at the Maritime Museum of the Atlantic and the Nova Scotia Archives and since 1999, she has never missed cutting the flag cake at Pier 21 on Canada Day.
Up until her ninetieth birthday Marianne came in once a month to bake for the staff and volunteers. She did so the way she had always done everything, well and with love. Marianne recently retired from volunteering and everyone misses her wisdom, her smile and the smell of cookies filling the offices. Now we go to her for pep talks and inspiration. She remains our greatest treasure.