The Hanbury Family
by daughter Elsa Hanbury
Accession Number: S2012.1202.1
"Immigrate to the Land of Milk and Honey."
So read the advertisement in the Danish Newspaper in the year 1928. Scandinavians were encouraged to immigrate and settle in Canada on the East Coast of on the prairies. My father, Hugo Arboe, with wife and two small children decided to risk it after some disagreements with the family in Denmark.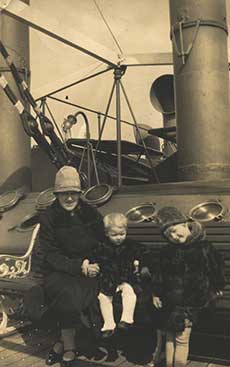 It was a risk indeed, he could not speak English, had no money or a job. He chose Nova Scotia and had heard of a nursery run by a Danish person that was looking for laborers. He decided he should come ahead of his family and for six months stayed with a Canadian family in Canning, Nova Scotia to learn some English.
His wife Ester, two daughters Merete (age 4) and Elsa (age 2) arrived May 5, 1928 and passed through what is now Pier 21. Hugo's family was now complete.
Ester and children sailed on the S.S. United States, first class, a gift from the family. However, she was unable to enjoy the voyage being dreadfully sea-sick. Elsa (terrible twos) took advantage of this and spent her time creating mischief where ever she could.
Two wealthy sisters, friends of my mother, presented her with a gift of money. This enabled my parents to invest in a small farm in North Williamston, a small village between Lawrencetown and Middleton. They lived here for seven years, the huge stock market crash in 1929 had dramatically affected the world economy and times were tough. Hugo did a little farming and also worked at the nursery. In 1935 they had a chance to sell their place and decided life would be easier in a larger town where the girls would get better schooling.
They decided to move to Arcadia, four miles from Yarmouth where they purchased another farm, this one with a wood acreage. Hugo found riches was hard to come by even though he worked hard.
The girls quickly adapted to their new environment. However tragedy struck when Merete at 19 contracted spinal meningitis and passed away within two days. This had a dramatic effect on the family, there was no support system for them with all the relatives in Denmark.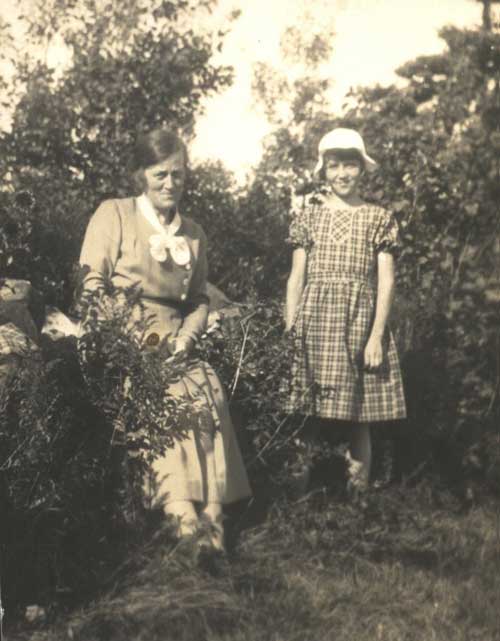 Elsa left Yarmouth after the war and settled in Toronto. She met and married an electrical engineer who worked with Canadian General Electric, they have two sons, and spent time in Peterborough, Ontario. Thomas Hanbury was transferred to Vancouver BC in 1973 and moved his family there were Elsa still resides. Thomas passed away in September 2003.
Ester and Hugo moved to Vancouver to be close to their family and lived in a Danish community where, much to their delight, they could speak Danish again and enjoy coffee with their new friends. Ester survived only two years and died in 1976. Hugo passed away in 1982. Both requested that their ashes be returned to Nova Scotia and laid to rest in Arcadia Cemetery.