Written by Donato Pezzuto
My favorite story about my parents recounts how they met and came to Canada. It started with a letter simply addressed as:
A la piu sincera signorina
San Andrea Barbarana
Treviso, Italia.
This could be roughly translated as: To the most sincere, or honest, unmarried young lady of a certain village in Italy, San Andrea Barbarana. It was written by my father, Augusto Pezzutto (February 20th 1923 - December 15th 2003), while he was living in Sault Ste Marie, Ontario, and was looking for a bride.
This unlikely long-shot of a letter lead to him meeting my mother, Ofelia nee Montagner (June 22nd 1924 - August 10th 2006), marrying her and their coming to Canada, while she was pregnant with me. Augusto was actually born in Sault Ste Marie but his family had returned to Italy when he was just an infant and thus far too young to recall his place of birth. After World War II, he found himself drifting through Italy to find work. Two of his brothers, Gino and Roy Pezzutto, who had made their way back to Canada, had found employment there and wrote for him to join them. This he did and eventually he found a steady job in a foundry in Sault Ste Marie. That is when he decided to write the fateful letter.
There was no specific woman that he had in mind for this letter. He apparently chose the village of San Andrea Barbarana based upon a simple observation. Before the war, while he was employed in the Cartiera Burgo paper mill, he would ride to work by bicycle from his home in Pezzan di Carbonera, passing through several farming villages. He recalled that the young ladies of one village, San Andrea Barbarana, were particularly attractive. So, it is not known but it is possible that my parents had at least laid eyes on each other at some point in their youth.
This letter, of course, was undeliverable. It remained with the village postmistress until she happened to mention it to the parish priest who told my aunt, Zia Esterina. She declared that the addressee would have to be her sister-in-law, Ofelia. Esterina brought the letter home. As was the tradition in those days, my mother, being the youngest female, was expected to remain unmarried, live on the family farm and to care for her own mother until her death. Ofelia's father had died previously and her mother also met an untimely death. This left Ofelia in the family home, which had been inherited by the oldest male child, her brother, my Zio Bruno Montagner, and his wife, Esterina.
These circumstances may have provided the principle impetus to consider a proposal that would come from the letter. At first Ofelia did not want to have anything to do with this strange letter. It remained unopened while Bruno and Esterina badgered her to open it. She finally relented. She opened it, read it and replied. Ofelia and Augusto maintained a steady correspondence, courting by mail for two years. At times, there were up to two letters sent per day. Photographs were exchanged. There is even one of Augusto in dress slacks but bare-chested, showing off his well-muscled physique. He claimed that the pose was completely instigated by the professional photographer he had hired.
Eventually Augusto proposed marriage in a letter. Ofelia accepted. He packed his bags and sailed to Italy. They married in the church of San Andrea Barbarana on January 4th 1958, honeymooned at the Al Cuore Hotel in Treviso and soon after, booked passage to Canada.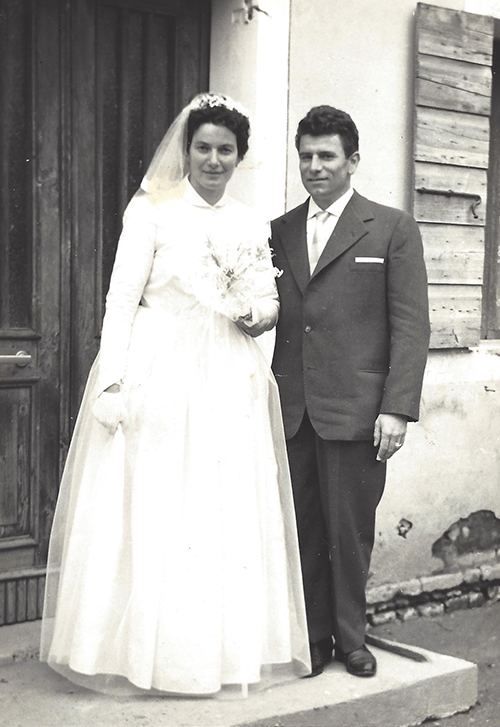 They sailed from Naples, to Halifax aboard the Greek liner, Olympia, in the spring of 1958. By then Ofelia was pregnant and she found the trip very difficult. She would have recently said her good-byes to her family. In those days, such a good-bye would have had a profound finality. A transatlantic passage was often an irrevocable move from their old world to an unimagined new world, taken by people fully cognizant of the fact that they would not likely ever see loved ones or homeland again.
The Mediterranean section was pleasant enough. Waters were calm. Ofelia recalled seeing dolphins racing ahead of the boat and seeing the coast of Africa near Gibraltar. However the Atlantic section was an ordeal. The sea and sky were stormy – various shades of grey by day and impenetrably black by night. She was already suffering the nausea of pregnancy which was aggravated by sea-sickness. She spent the remainder of the crossing confined to a sickbed. Augusto, on the other hand, was not at all bothered by sea-sickness. He never missed a meal, even on days when many passengers were too ill to attend the dining rooms.
Ofelia managed to leave her sickbed in time to see the ship approach the Halifax dock on April 15th 1958. She found the harbour and rail-yards dingy and grey but it was some relief to reach terra firma. They did not spend much time in Halifax. The passengers were quickly transferred to waiting trains. Ofelia continued to feel ill during the long ride by rail from Halifax to Sault Ste Marie. She could only recall endless vistas of forested hills and lakes. This was interrupted only by a brief stop in Montreal. There they had a dinner. Augusto finished a large serving of pasta while Ofelia could barely watch.
Eventually they reached Sault Ste Marie to start their new life.
Augusto soon got work as a labourer at the Algoma Steel Plant and Ofelia worked as a homemaker. They remained in Sault Ste Marie for several years and raised a family of four children, Donato, Maria Teresa, and twins, Franco and Paola, followed by eight grandchildren. Most of their married life was spent in the 'Little Italy' neighbourhood of James Street in the West End of the Soo, living in a house not far from the one in which Augusto was born. Life there revolved around the home, the garden, the Steel Plant and the Church of Mount Carmel. Many years were to pass before they traveled back to Italy, but Canada had become home.
Augusto was a Canadian citizen by birth and travelled through Halifax on a Canadian passport. When the children were old enough, Ofelia took English language classes and eventually she obtained her Canadian citizenship. I remember us children coaching her to memorize the oath and quizzing her on the provincial and territorial capitals. After all the study, it was almost a disappointment to her that the judge was so easy with the questions, but the day she was granted her Canadian citizenship was one of Ofelia's proudest.