"One day, I was playing with other children from our block, when a helicopter flew over and began firing in our general direction," recalls Shangary (Satgunanathan) Graham. "The helicopter was flying very low and when I looked up, I could see the soldier operating the machine gun that was mounted on the helicopter. I remember running towards our bunker while empty casings and chain-links were raining down all around us. After the helicopter had disappeared, we would come out of the bunker and start collecting the empty casings, which would still be hot to touch, and clip them together so we could play."
Originally from Pungudutivu, a small island located near the northern tip of Sri Lanka, Shangary endured the country's civil war. As a child, she lived with her family through a period of bombings of local markets, temples and other major structures. It was a devastating time as schools were shut down and transformed into refugee clinics.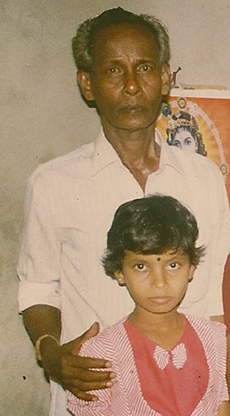 During the peak of the war, Shangary and her family spent numerous days and nights in bunkers to find shelter from the attacks. The days following the attacks, the newspapers would report on the death toll, how many homes were destroyed; the reality of the war would become apparent. Shangary remembers the rebels recruiting families with sons and daughters who were old enough to enlist and her parents feared the worst for their children.
Eventually, Shangary and her family were given permission to leave Jaffna. As they began their journey, they were faced with many obstacles before reaching Colombo. Here, Shangary and her siblings were able to attend school and start a new life. Three years later, her father passed away and the family decided to immigrate to Canada. Her younger brother sponsored Shangary and her mom and in 1994, they arrived in Canada. At the age of 18, three years after settling with her family in Toronto, Shangary became a Canadian citizen.
After high school, Shangary chose to stay in Toronto and a few years later, she enlisted with the Canadian Armed Forces.
"It was merely my sense of adventure that had led me to join the Army Reserves," says Graham. "I was intrigued by the fact that I could receive basic soldiering skills, receive medical training, learn to fire weapons and be compensated for my time served."
The time she spent with the Canadian Armed Forces has shaped the woman she is today. As a new Canadian, Shangary served for the country that gave her a new beginning which further allowed her to express her gratitude to Canada.
"Wearing the uniform was an extremely rewarding experience; however, it took me a few years to comprehend the opportunity that I was given. The more I learned about the history of Canada, I had not realized how much blood, sweat and tears that went into building this great nation by those who fought to earn the freedom we all enjoy today."
As her career progressed, Shangary's sense of pride began to grow. Serving in the Canadian Armed Forces for 12 years, the native Sri Lankan took every opportunity to learn and travel with the military. Throughout her career, she held various positions such as medic, resource management support (RMS) clerk and intelligence operator. In 2009, Shangary was deployed to Kandahar, Afghanistan. Due to her background in medical and administrative fields, she was assigned to the Kandahar Air Field Hospital. Serving this six-month tour overseas was an honour that Shangary will always cherish.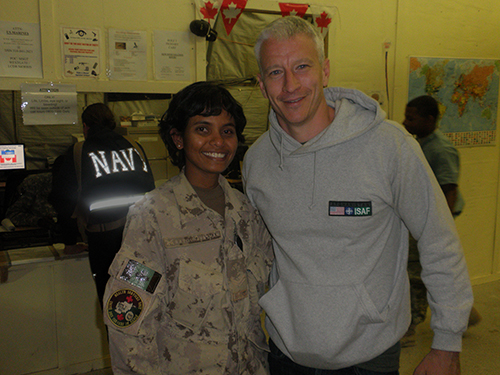 "As a soldier in the Canadian Forces, I served as a member of the Patient Administration Division at Kandahar Air Field Hospital. During every shift, I witnessed various types of war injuries ranging from minor shrapnel wounds to torn up limbs caused by explosions or hostile encounters. Some individuals were fortunate enough to be saved by the medical team but some were not."
Now released from the Canadian Armed Forces and a new mom, Shangary is enjoying her civilian status with the Government of Canada. She plans to balance her life between being a wife and mother as well as by furthering her career and education.