This July, close to 7,000 athletes from across Latin America, South America, the Caribbean and North America will put their years of intense training, perseverance and sacrifice to the test in world-class competitions at the 2015 Toronto Pan Am Games. Inaki Gomez-Goroztieta will be one of the athletes representing Canada.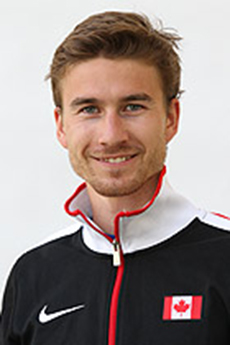 Although he has represented Canada at the Olympics and other major sporting events, competing at home is especially meaningful for Inaki. He made his Olympic Games debut in 2012 in London when he competed in the 20km race walk event finishing in 13th place, setting a national record of 1:20:58 in the process.
"I've had the fortune of representing Canada at several major competitions, including the Olympic Games," says Gomez-Goroztieta. "However, representing Canada on home soil will be a unique experience. As athletes, we constantly travel around the globe to take part in competitions, which means that our support groups very rarely get the chance to watch us compete."
Today, Inaki calls Canada home although he continues to celebrate his family roots "My heritage is culturally rich; my family originates in the north of Spain. The vast majority of my family comes from the Basque country. Prior to the Spanish civil war, my relatives decided to leave for Mexico to escape the Franco movement," says Gomez-Goroztieta. "Both my parents were born in Mexico City."
Inaki and his brother were also born in Mexico and spent the early part of their upbringing there. Inaki recalls that while he and his family were fortunate to have grown up in a part of Mexico where some opportunities were available, his parents began to fear that eventually these would be seldom at best. With their children's futures in mind, his parents looked north to Canada for a country that would allow their family boundless opportunities.
"Like many immigrants, my parents viewed Canada as a place that provides a politically stable environment that encourages its citizens to seek new opportunities, such as education, to contribute towards the bettering of the country," remembers Inaki.
As well, both of Inaki's parents had spent a summer in Vancouver learning English at The University of British Columbia in their mid-20s, and he believes the nostalgia of falling in love with the city then, contributed to their decision to move their family there when Inaki was 11 years old.
Exposed to sports from a very young age, they have always been a part of Inaki's life. However, it was in Vancouver that he began his athletic career as a swimmer with the Canadian Dolphins Swim Club. After a non-severe car accident, the young athlete was forced out of water due to a neck injury and turned his focus to race walking.
Click each image to see the full size photo.
"I had learned the technique in Mexico, so I began competing during my high school years while attending Vancouver College High School," says Gomez-Goroztieta. "Upon graduation, I was recruited by UBC to join their Cross Country and Track and Field Program, as I was also a strong runner. I made the decision to follow this new path and I have never looked back."
Taking up the sport competitively almost 10 years ago, Gomez-Goroztieta is one of the fastest race walkers in the country, walking a kilometer in a little less than five minutes.
Now married, Inaki's wife, Carmen Alvarez Gomez is a native Vancouverite, and the daughter of a Spanish immigrant and a 4th generation Canadian. "To me, her family and background exemplifies what makes Canada a great country," he says, "The embracing of different cultures and peoples that still honour their heritage but can also be proud of starting something new."
The young athlete is currently putting all of his energy into becoming the best in his respective discipline. Recently having graduated from the University of Calgary, Faculty of Law, he will begin his articles with a national firm in Vancouver in September 2016. In the meantime, Inaki is training for the 2015 Pan Am Games and the Rio 2016 Olympic Games.
Good luck Inaki!