Born in a refugee camp in Austria, Claudia Covalciuc lived there with her mother for the first six months of her life. Shortly after her birth, Claudia's mother was given the choice to either immigrate to Australia or Canada. Choosing Canada, the two were given one-way tickets to London, Ontario, where Claudia resided with her mother for the first 11 years of her life.
Life in Canada was not always simple. Being raised by a single mom, their financial situation often saw them living below the poverty line. As the years passed, life in Canada did not improve. Soon after completing the fourth grade, Claudia and her mother returned to Romania to seek child support from Claudia's father. Initially, the two planned to return to Canada in time for Claudia to begin school in the fall. However, circumstances changed and they stayed in Romania.
"My initial reaction was excitement," says Covalciuc. "I am going to get to experience my culture. But this was a huge culture shock. Growing up as a Canadian, I didn't really see myself as an immigrant or a refugee. Even the language and the culture were so different."
The excitement of being back in her homeland quickly faded as Claudia was required to grow-up quickly. The duo was once again poverty stricken. Homeless and with very little money, Claudia was working to support her sick mother and herself. Claudia's ultimate goal was to return to Canada to attend school.
Although still a child, Claudia had faith that the Canadian Embassy in Romania would help since she received her Canadian citizenship at the age of four. She would write letters requesting help from the Canadian Embassy in Romania. Unfortunately, due to the fact that she was a minor, they did not have any support in place for her and encouraged her to stay in school in Romania.
"It took me a few days to get over being devastated and heartbroken that I didn't have any help," remembers Covalciuc. "That was probably the time in my life that I felt the most alone. I remember thinking to myself; if I stay here I will probably end up dead."
Claudia persevered and continued to save money. She knew that if she continued to live in those circumstances, her life would only get worse.
A second chance…
Claudia landed in Halifax, Nova Scotia at the age of 16. The friend she had made online never showed up and without enough money for a shuttle or a taxi, Claudia was unsure of her future. Having lost all hope, she sat in the Halifax Stanfield International Airport feeling as if this was the end of the road. Instead, a stranger noticed her crying and offered to take her home to Eskasoni First Nation.
"I arrived at the Halifax airport alone with a bag of clothes and an expired passport," says Colvalciuc. "I didn't know anybody, I didn't have a base. I was absolutely terrified."
Going above and beyond to help the young stranger, the two aboriginal women, who had offered to help, were still a bit skeptical since they didn't know anything about the girl they had just invited in their home.
When they arrived in Eskasoni, Claudia was able to get some rest. Shortly after, she was taken to the local police station where she was questioned by authorities. The police officer assured that Claudia was telling the truth. They could take her home.
"It was almost like a Cinderella story. I lived with my new family, my room was under the stairs without a door," says Covalciuc. "But I didn't care. I was so grateful to have a bed to lay my head."
After settling in with her new family, Claudia enrolled in high school and excelled as an honours student. However, her success in school still came with hardship as Claudia worked full-time to support herself and to not burden her family.
"My life as 16, 17, 18 year-old Canadian girl was extremely different than the one of a Canadian-born teenager," says Claudia. "After passing a series of tests, they wanted to place me in grade 12. But I felt I was robbed of my childhood, so I got it approved to start grade 10. I wanted to experience high school.''
Claudia will always be grateful for the compassion and kindness afforded to her on arrival in Halifax. And, with the continued support of the Eskasoni First Nation community, Claudia earned a bachelor's degree in criminology and sociology from Saint Mary's University three years ago.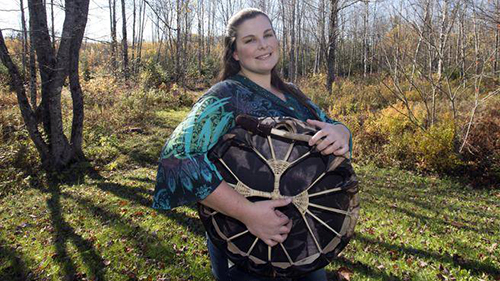 "When I returned to Canada in my late teens and early 20s, I really kind of redefined who I was as a Canadian and I definitely made it more concrete that yes, I am a Canadian," says Claudia. "More importantly, I identify with the Aboriginal communities. That's my primary focus. They will always be my family. My roots are definitely embedded within the communities, within the culture, within the tradition."