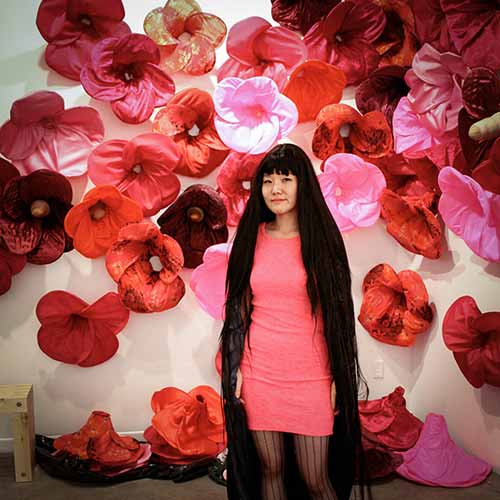 At the age of 12, Jihee Min immigrated to Montreal, Québec with her parents and younger sister. Looking to open the world to their children, the Min's explored many opportunities for their two daughters. One possibility was to send the two young girls overseas to attend school. However, not wanting to separate their family, they decided to immigrate to Canada.
"They looked into a few countries, and after visiting Canada, they loved how houses didn't have fences," says Jihee. "Canada was a place for a peaceful life, family, education and future."
Today, Min is an accomplished visual artist and is happy to have set down roots in Toronto. "I don't know when exactly I felt that Canada was home…I think in 2003 when I went to Italy as part of a campus study program. I was living in Italy for a year. And then I was missing Canada, like, oh I want to go home and maybe that's when I also started to realize that Canada is home," says Min.
For many newcomers, the sentiment of belonging shapes itself at different times. Arriving in 1992, keeping in touch with family and friends in Korea was challenging. It was at a time where technology was not as prevalent and since Facebook and e-mail were not as common, they had to rely on hand-written letters and long-distance phone calls. At times, Jihee found this reality to be isolating. Not only could she not communicate with her family and friends who were living in Korea as often as she wished, the language barrier made it difficult to communicate with her new peers.
"I was a tomboy, a leader in school, very active and outgoing. The little-Jihee in Korea lived a happy life with no worries, with lots of friends. I lived a good life, the way any child should," reflects Min. "Because I was so outgoing back in my native country with so many friends, the trauma of language barrier completely shifted my sensibilities. This is why I started to appreciate art, because through art I was able to express, and get known in school as the girl-who's-good-in-art rather than the immigrant or Chinese, even though I am Korean."
Shaped by her experiences, the young visual artist creates with a hope to communicate with her surroundings. She employs narrative strategies and autobiographical experiences to explore the notion of identity and cultural displacement. Jihee creates art in many different mediums: sculptures, installations, performances, videos, photography, drawings and much more.
Click each image to see the full size photo.
Leaving home to face her teenage years with new peers, adapting to a new culture and learning a new language, Jihee found living in Montreal challenging. Consequently, her art tends to bring the audience back to her childhood as well as her own cultural memories.
I Scream Minjihee, a performance piece featured in the Canadian Museum of Immigration at Pier 21 's travelling exhibition, Canada: Day 1 is a perfect example of how her art is shaped by experience. This performance shows Jihee walking downtown Montreal pulling an ice cream cart and screaming 'I scream Minjihee'. The cart she was pulling had hundreds of ice cream bars, on which her name in Korean was scribbled in cocoa powder. This demonstrates her first cultural change. In Canada, she is known as Jihee Min and in Korea as Min Jihee.
"The re-ordering of name, surname before first name, signifies the first trauma of becoming a Canadian resident," explains Min. "I always seek to connect with my audience; therefore, in the performance, my desire to assimilate resulted in the act of sharing ice cream bars with street by passers."
Despite the challenges she faced as a teenager growing up in a new country, Jihee embraces her new home. "Becoming Canadian was a big factor that shaped who I am now. The process of integration and assimilation to the main culture led me to express [myself] through art. I am honoured to be part of the travelling exhibition Canada: Day 1," says Min. "The visual art component of the show adds another layer to the stories of immigrants. I hope my story inspires many Canadians to embrace each and everyone's culture and provide a ground of understanding to what Canada really is."