A proud family man, Mouctar Amadou has faced several challenges during his lifetime. Now, he shares his culture and life experiences with his family, friends and students. For the past few years he has been living in Moncton, New Brunswick and teaches French as a second language at Riverview Middle School.
"Today, I am living the Canadian dream," says Mouctar. "I have two wonderful kids, Samia and Malik, and my wife is the most understanding woman in the world. I am passionate about my work and I get involved in my community as much as I can."
Living such a life had not always been possible for the young African. About 15 years ago, Mouctar left his poverty-stricken village of Niamey in Niger. A volleyball enthusiast, he was offered the opportunity to travel with his team. That's when he decided to move to Canada.
"My family was poor," shares Mouctar. "We were seven children sharing a bedroom that was only 10 square feet." He remembers having to move almost every two years because his parents could not afford the rent. Even if the people were poor, Niamey's residents displayed a deep sense of community. Mouctar still embraces these values and sense of community today.
When he arrived in Canada, Mouctar lived in Ottawa, Ontario. As a newcomer, he had to face many obstacles while integrating into his new community. One of his first challenges to overcome was the language barrier. Not being able to communicate in English made finding a job very difficult.
"I had to take an English course and then I took low level jobs to support myself." The language barrier and his work experience meant taking entry-level positions. Although Mouctar has a degree in physical education from Niger, his credentials were not recognized in Canada.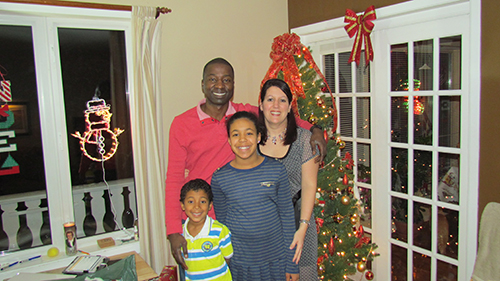 About a decade ago, Mouctar met his wife Vicki, a native of New Brunswick, and together they decided to move to Moncton. With the birth of his daughter and his current salary, their financial situation did not allow his family to live comfortably. This is when Mouctar decided to go back to school to get a Bachelor's Degree in Education from Université de Moncton. With his new degree in hand, he had to prove himself before obtaining a permanent position as a teacher.
Even though Mouctar believes he is living "The Canadian dream", it has not always been easy for him. With a good job, a wife he adores and two wonderful kids, he still sometimes feels far from his family in Niger.
"It took nine years before I saw my family again," says Mouctar. "It's hard to stay in contact with everyone and unfortunately there are a lot of things that happen after you leave your home country."
Last December, Mr. Amadou, Mouctar's father, paid a visit to his son, daughter-in-law, and grandkids. Samia and Malik, ages 10 and six, had never met their paternal grandfather. When the opportunity arose, Mouctar and Vicki jumped at the chance to bring Mr. Amadou over for a visit.
"It was a very emotional meeting for us because my mother had just passed away after a long battle with cancer. The fact that my children had the opportunity to meet my father could help them define their own identity," says Mouctar. "It's very important that my kids connect with members of my family, even though they are very far away."
Click each image to see the full size photo.