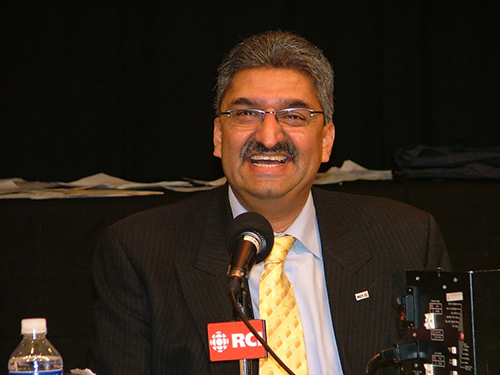 Family and career play an important role in Nick Noorani's life. As a social entrepreneur, champion for immigrants, motivational speaker and best-selling author, Nick leads a busy lifestyle. He has become a powerful voice for the successful integration of immigrants in Canada and in bridging cultural gaps in the workplace and beyond. However, he is a true family man, and when one meets Nick it is apparent that his family is always at the forefront of all his decisions. His greatest joy is spending time with his two-and-a-half-year-old granddaughter.
Born in Mumbai, India, Nick Noorani first immigrated with his family to Dubai where he led a successful marketing career working with some of the world's leading ad agencies. Life in Dubai for the Noorani's was prosperous and safe. Although it was a good place for their family, Nick and his wife, Sabrina, felt that opportunities for their children were somewhat lacking. They wanted to ensure their children, Michelle and Dan, had access to the best post-secondary education.
"My daughter, Michelle, who was 18 at the time, was getting ready to go to college," says Nick. "And so living in the Middle East the question was, Does she go back home to India? Does she go to the U.S.A. or Canada?"
After considering different options, they determined that Canada was the best choice for their family. Nick's brother, who had immigrated to Canada two years prior, had been encouraging Nick to move closer. The kids were growing up and he believed it would be beneficial for their families to grow up together. He was thrilled that his family would be reunited. They arrived in April 1998 and it was three weeks of sunshine. At this point, Nick knew it would all work out. Coming from a place where it was sunny all the time, it appeared odd when everyone around him kept commenting about the unseasonably gorgeous weather they were experiencing.
Like many newcomers, the Noorani's were faced with finding employment, settling in a new environment all while raising a family. This did not come without its challenges.
"My son was 14 and my daughter, 18, when we came to Canada," says Nick. "Fourteen is not a right age for a young boy to move to a new country. Our challenges were not in getting jobs. They were in dealing with the challenges our 14-year-old was facing. As a parent, this was heart-wrenching. He was being bullied but didn't want to talk about. He was going through a lot."
At first it was difficult, but together they mediated the situation. Nick believes it made his family stronger, more resilient and therefore capable of understanding how to overcome future challenges. Although Nick had been an entrepreneur for the better part of his life, being in a new country and faced with family challenges, he decided it was best to get a stable job. For his first five years in Canada, he worked for others. "I didn't understand the country," states Nick. "Working for two Canadian employers allowed me to better understand the workforce."
No longer able to closet his entrepreneurial side, Nick sought out gaps in the market. At the height of the recession, he quit his job to follow his passion. Drawing from his personal experiences as an immigrant as well as his professional expertise, Nick's first Canadian entrepreneurial venture was the creation of Canadian Immigrant Magazine. Seeing a gap, he wanted to give a voice to immigrants. Nick had a desire to promote positive stories of immigrants as well as provide a channel for newcomers to Canada to have their voices heard. Soon after the launch of Canadian Immigrant Magazine, the media landscape started shifting and mainstream media began reporting on the successes of newcomers and their stories.
"How many new immigrants to Canada have the opportunity to give back to their community like I have?" says Nick. "What a wonderful opportunity; it's amazing!"
When he is not working on his numerous business ventures or spending time with his family, Nick can be found giving back to his community and country through volunteering as well as advocating for immigrants. Since his arrival in Canada, Nick as served on boards from coast to coast, citing, ."I enjoy what I do. Making a difference in peoples' lives is a great thing."