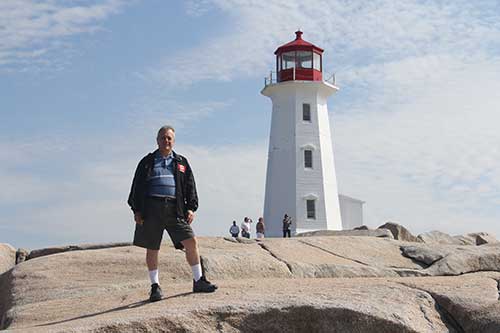 For Frank Cicchetti, each time he has to answer simple questions like Where are you from? or Where were you born?, heads turn and questions arise. "When I was a kid, it was not pretty. I didn't know what to say," recalls Frank. "I was born on a boat."
Frank's immigration story is not like the stories of many other Italian immigrants. He never lived in Italy, although he wasn't born in Canada either. In May 1956, his parents, Antonio and Antonia Cicchetti embarked the Saturnia with the hopes and dreams of a new, safe and prosperous life. Well into her third trimester, Antonetta boarded the Saturnia even though officials were cautioned to screen passengers for pregnancy, diseases and other health risks. Seemingly, the crew of the Saturnia were not particularly stringent when it came to screening out childbearing women.
At the time of the crossing, Antonia believed her due date would be after she arrived in Canada. To their surprise, the couple welcomed a beautiful baby boy two days prior to docking in Halifax. Frank was born near 41.26 N and 46.46 W in the mid-Atlantic aboard the Saturnia.
While details of his birth are fuzzy, Frank and his wife, think he may have been born early since he was only about six pounds. His parents were focused on adapting to their new life. "They were basically [like], 'We're here to work [and] bring up the family,'" says Frank. "And, I don't fault them for it."
Frank is proud to call Canada home. He has lived in Toronto for all of his life with his wife of 26 years, Carole, and their two children, Nicole and Tony. Although he has never lived in Italy, the culture is very prominent for his family. And, like his parents, he is working to provide the best for his family.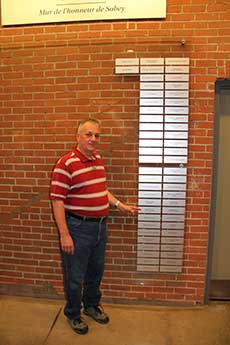 This past summer, Frank visited the Canadian Museum of Immigration at Pier 21 searching for answers. Although he has no memories of the voyage onboard the Saturnia, he feels a strong attachment to the ship itself as it is his birthplace.
With many questions and few answers, he did have one clue about what had happened on board at the time of his birth. Frank was gifted a gold pendant from the ship's Italian captain at his baptism, which he now wears proudly around his neck. One side shows Mary and baby Jesus and the other reads: "Italia: Societa di Naviagazione – Genova."
Today, Frank can piece more of his life together. Despite his parents' nonchalance, Frank received more stardom than he thought. With the help of Museum staff, he was able to get a copy of the front page of The Mail-Star two days after his birth, which showcased a photo of his 21-year-old mother and baby Frank. During his visit, Frank was also fortunate to meet Giovanni De Nicola, a fellow passenger on the same Saturnia voyage. Although they had never met and lived different experiences in Canada, their immigration stories have bonded them with an unexplainable connection.
Frank marked his arrival to Canada by dedicating a brick on the Sobey Wall of Honour. He and his wife visited his plaque, displayed amongst hundreds of others, on their recent visit to the Museum. As well, he is planning to include his unique immigration story on the Museum's virtual Sobey Wall of Honour so that his family's legacy will live on for his children, grandchildren and future generations. "If it wasn't for the Museum, I would have been lost," says Frank. "I'm glad I came to visit the place where it all started."