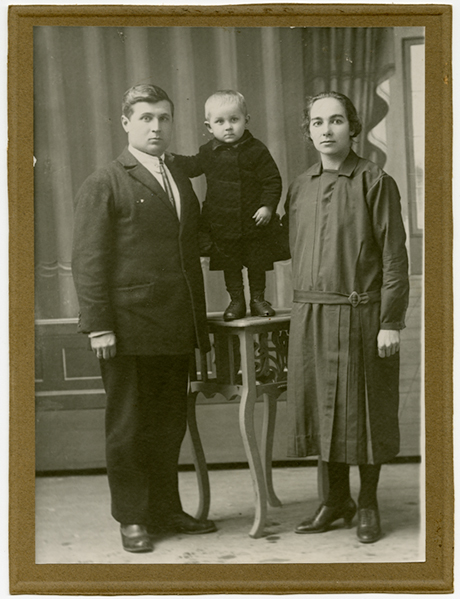 On May 9, 1928, Teodor and Katherine welcomed their first-born son, Ernst Radke. With a newborn, their future in the village of Akkermann, Seimenu in Roumania was marked with uncertainty. At this time, Teodor believed the threat of war beginning in Europe was unavoidable. This forethought was part of his will to migrate west as he knew he wanted to provide his son with a safe and prosperous setting to grow up—one where he could live freely without the constant fear of being involved with or directly impacted by war. Along with the encouragement of Teodor's brother, who had immigrated to Canada in 1929, the Radke family would soon begin their journey to a new country. "It was a difficult decision [for my parents] because it meant leaving many family members and friends behind," reflects Ernst. Although, he was only a small child when they arrived in Canada, Ernst was fortunate that his parents shared in great length about their decision to immigrate and their voyage to Canada.
In 1930, at the young age of two, Ernst embarked on a journey with his parents to their new home. It was a long and fearful route to as they left their village and travelled by train through Czechoslovakia and Poland to arrive at the free port of Danzig. This was followed by a ten-day voyage on the SS Estonia across the Atlantic Ocean. It wasn't until the Radke family boarded the ship that they felt some relief along their crossing.
The ten-day voyage proved to be difficult. The seas were rough causing many passengers to be overcome by seas sickness including Ernst's mother, Katherine. "There were times when the propeller would come completely out of the water," Ernst remembers his dad reminiscing as he himself was too small to remember the voyage. While his mother was too ill to leave their cabin, Teodor would often wrap up Ernst and take him up on deck to experience the fresh sea air.
On March 27, 1930, the SS Estonia arrived at Pier 21 in Halifax. The ship arrived too late in the day for everyone on board to clear customs and therefore it docked a few miles off shore for the night. "When the call came that breakfast was being served on the ship, very few were interested. Most passengers were anxiously waiting to get off [the ship] in Halifax," says Ernst.
As the Radkes embraced their new life it was not without its challenges. Although they had been travelling for over two weeks, Halifax was not their final destination. After clearing customs, they boarded a train heading to Carstairs, Alberta. Teodor's brother lived near Carstairs and he thought this would be good place to settle with his family. On the train, they encountered the first of many instances where their language would cause them barriers. Like most Romanians, English was not Teodor and Katherine's mother tongue which required them to use drawings and hand gestures to interact with their new neighbours.
Five days later, when they arrived in Alberta, Teodor needed help contacting his brother. "[Even though] my dad had a watch on and knew what time it was—he needed to talk to someone who could understand German," shares Ernst. Cleverly, he walked up and down the street in Carstairs and asked "Wie viel uhr ist ehs?" (What time is it?). Eventually, someone told his father the time in German as well as helped him to telephone his brother who lived on a farm east of Carstairs.
As time passed and they settled in their new environment, language proved to be one of the most challenging barriers for the Radke's. When Ernst began school, he had not learned English and had to rely on his fellow classmates. Thankfully, there was a young girl who spoke fluent German and was able to act as a translator between him and his teacher.
In 1934, Ernst's parents became Canadian citizens. As for Ernst, he always assumed he had become Canadian at the same time. It wasn't until the late 1980s when he was completing his passport documents that he realized there was no record for him. At the time Ernst immigrated, young children were simply included on their parents' paperwork and this was his case. Ernst's name was scribed on the back of his father's documents.
Now the 86-year-old is established in Calgary, Alberta and has never returned to visit his birthplace in Romania. Although, he recently returned to Pier 21, 84 years after he and his parents first landed in Canada, this time with his son and daughters. His visit back to the Pier brought on fond memories of time spent with his parents learning about his arrival in Canada. Upon seeing a black and white image of the SS Estonia, Ernst's face lit up with the biggest smile. His children were able to share a special moment in history with their dad. And, while Ersnt and his family encountered hard times, his story speaks to the fact that they are thankful to live in a free and safe country. For Ernst, Canada is home.