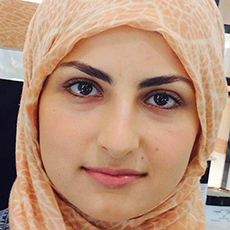 "Peace to me is the absence of acts of violence against ethnicity or gender. It is being able to path my own life, my parents had hundreds of plans that were shattered for reasons out of their control (war, economic sanction, ethnic discrimination, etc.) It is the sun streaming through the sky without a curfew time lingering. It is having a government that is obliged to work for benefit of its citizens. It is diversity, accountability and equality. It is pedestrians offering a warm Nova Scotian smile to strangers. It is the feeling that comes when helping the people in need. It is seeing my family without mountains of stress but rather full of excitement and joy for tomorrow."
-Mayse Al-Haboobi
Mayse Al-Haboobi's Story
Born in 1992 during the economic sanction of Iraq, Mayse Al-Haboobi knows too well the reality of living in a world filled with conflict and poverty. The struggles of war were eminent for Mayse and her family. Government funds were being used to finance the war causing unemployment and municipal layoffs which included her father who had worked for the city. As a young father and a former municipal Civil Engineer with a Master's Degree, he felt so hopeless and helpless, masking his ability to see a better future for his children.
As violence escalated in Iraq it seemed as if no one, mourners, pilgrims, journalists, not even children, were safe any longer. And for the Al-Haboobi family, this reality hit very close to home as they lost relatives and family and friends were being forced out of their homes by extremists who threatened to destroy their houses if they stayed. "It's a sad feeling when you realize that the people you love may not be alive tomorrow," reflects Mayse.
It was becoming more and more apparent that the Al-Haboobi's could no longer provide the peaceful life they desired for their children. Although they knew the importance of education, their living conditions had become so dire that Mayse's parents considered removing their children from school in an effort to protect them. This was their breaking point, when they started the immigration process.
Having friends and family living in Canada, they knew they would be coming to a safe and peaceful country. Her parents were fascinated by the Canadian Charter of Rights and Freedoms, and the promise to practice their beliefs, culture and work freely. Mayse still remembers the day her father was preparing their immigration application when he told her, "All [of] what I'm doing now is for you and your brothers; one day I will tell our immigration story to my grandchildren. When that day comes, I will be living in a safe, friendly and peaceful place."
Now 22 years old, Mayse is proud to call Halifax home. Thinking back to her first days in the city and how she has loved it ever since. "I remember how everything was so beautiful and exciting for us, even the first time we ate at Tim Hortons! I had a French Vanilla!" Mayse reminisces.
During their first few weeks here, it was evident that their choice to immigrate to Canada would lead to a future filled with excitement and opportunities. Walking along the Halifax waterfront, the family chatted freely and confidently about their hopes and ambitions for the future since they knew their future in Canada would be promising. With the war left behind, Mayse has been able to forge a new life for herself.
In May 2013, Nawaf, Mayse's eldest brother, graduated from Dalhousie University with a Bachelor of Civil Engineering. This year, Mayse and her brother, Mustafa, each completed their Bachelor in Chemical Engineering from Dalhousie University. Her father obtained his engineering licence from the Association of Engineers Nova Scotia and her mother has recently become a student at Immigrant Services Association of Nova Scotia ISANS (formerly known as Immigration Settlement & Integration Services) to develop her English language skills.
As Mayse sets out on her new journey to become a Canadian citizen, she is confident that she has found home. She feels that Canada is a country that represents: tolerance, diversity and equality, and hopes that by sharing her story other conflict-affected countries will one day cherish and celebrate diversity.