Ruth Miranda's Story
Long before the era of match.com and similar online dating sites, Ruth Miranda and her future husband met in a very interesting way: by Telex machine! It was the early 1970s and Ruth and Pedro were both young and working in telecommunications in Chile, she in the city of Concepción and he in Valparaíso.
They talked almost every day for two years before they first met. What started out as friendly conversation about the weather soon turned into thoughtful discussions about their opinions on literature, politics and their hopes for the future. Pedro, eight years Ruth's senior, would recommend books for her to read and was captured by the way she expressed her opinions about them.
Without ever having seen each other, Ruth fell in love with "the way he wrote" and how he saw the world. He penned beautiful poems about life and injustice, "not cheesy ones." She was taken with his ideals, which matched her own as well as her blossoming political awareness. They were both supporters of Chile's president of the day, Salvador Allende.
Ruth and Pedro were happy, full of hope and dreams for the future they were planning together. They would move to a new city, settle down and be married. Pedro would teach history and geography, educating youth about the subjects he was so passionate about. They even had plans to start a business raising chickens and selling eggs. At the time, "it was very expensive, very difficult to eat for the population," so they wanted to produce their own food. Ruth wanted "to do something about changing the world."
While they were busy planning their future, everything suddenly changed. It was September 11, 1973. President Allende was ousted in a coup d'état led by the military. By 1974, Augusto Pinochet had come to power. Since Pedro was active politically, after the coup it became very difficult for him, and for Ruth. The military environment created a level of suspicion among neighbours and colleagues. There was mistrust and fear that what you told someone might be reported to the authorities, whether suspicions were grounded or not. Pedro had to go underground for some time. One day, Ruth visited his mother and found her burning some of his books for fear of them being used against him.
Ruth would stand in long line-ups at the grocery store. After the coup, people had the money but couldn't find anything they needed in the stores. It became difficult even to buy milk. Once, on her way to visit her sister, Ruth was searched at bayonet point at the train station. She witnessed even more traumatic scenes.
Despite the challenges, life for the couple went on. Pedro was resilient in his search for a job. Even when he resorted to selling fish in the street, Ruth never saw him become depressed. She was working and the couple welcomed two beautiful babies. However, their situation remained difficult and one of Pedro's brothers living in Winnipeg eventually convinced them to take refuge in Canada. It was 1978.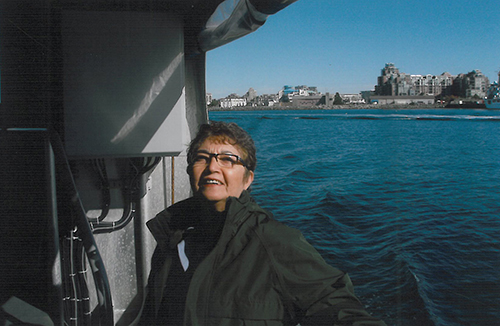 For Ruth, coming to Canada was "a bit of an adventure." She was a young mother, focused on caring for her family. In Winnipeg, Pedro found work as a roofer. Some days it was difficult to reconcile working in this field, given his education, but he was pleased to have a job. After a short time in the city, the family settled in Victoria, BC, where they continue to live today.
Despite the circumstances they had left behind, Pedro especially longed for Chile. After eight years in Canada, they even decided to move back, but after a year found it too difficult to stay. Since then, Canada has been home.
In Victoria, Ruth's first job was as a home support worker, caring for seniors. After a few months, and with a bit of encouragement from her supervisor, she began taking college training courses in the evening in order to become certified in her field. She also started working part-time for the Inter-Cultural Association (ICA) of Greater Victoria, as a Spanish translator supporting refugees from South America.
What began as a seven month contract, turned into a full-time 23 year career. Today, Ruth still works with ICA, as a Settlement Worker. The job has "been a university for me. Because I learn so much from people from all over the world that come to my door."
Ruth knows from her own family's experience that settling in Canada is not always easy. The work that she does has made a difference in the lives of so many immigrants. For them, Ruth certainly has "changed the world," even if she ended up doing it in a way that she never dreamed when she was planning her future so many years ago.
Ruth shared her story with the Museum as part of the Canada: Day 1 travelling exhibition. Canada: Day 1 will be presented at the Nanaimo Museum in British Columbia until September 1, 2014.
Click here to watch a video clip of Ruth talking about her first job in Canada >