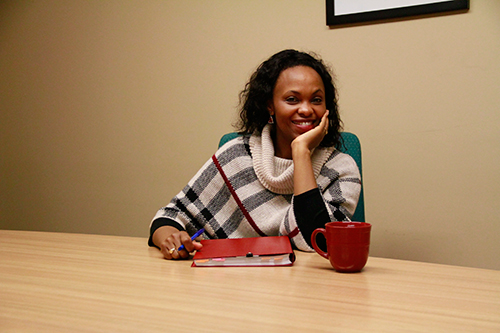 Claudine Tesire understands the ups and downs of the immigration experience. That's because she has experienced both, having immigrated twice under very different circumstances. Now settled contentedly in Halifax, Nova Scotia, Claudine works to help other Francophone newcomers settle in the same way. Her experiences, shaped by the good and the bad, help her connect with new immigrants to support them in the settlement process.
With a warm, open personality, and a ready smile to match, Claudine's positivity shines through and you can see why she is a perfect fit for her current role at Immigration Francophone. She helps newcomers get settled by providing support and information about finding housing, employment and more. Sometimes, she is the first person to greet a new immigrant when they arrive at the airport. Each time she does, Claudine is reminded of what it was like when she first arrived.
Life in Belgium
Before coming to Canada, Claudine, her husband and their four children, lived in Belgium for 17 years. Despite the fact that they had raised their family in Brussels and life was going well, something about it still didn't quite feel like home. For Claudine, part of the reason was the circumstances under which they had settled there.
In 1994, the family was forced to flee Kigali when war broke out in Rwanda. Claudine remembers this as a very difficult time. When they arrived in Belgium, they had lost everything:
"You come out of the war having lost everything, not only your possessions, which don't matter as much, but members of your own family. It was very, very hard. I remember living with my sister-in-law, and afterwards we moved into an apartment since the children had started going to school, but I had no interest in decorating or doing anything else to the apartment. I only wanted to buy a set number of things. Since we were a family of five then, I only wanted to buy five plates, no more. After what we went through, material things had lost their appeal for me."
Although it was admittedly hard to adapt at first, Claudine dedicated herself throughout this emotional period to looking after her young children and focused on training and finding work. Over time, she studied English, Dutch and eventually office administration, which led her to work for six years with an immigrant settlement agency. As Claudine explains, "That's how we came to Canada…how the story continues."
Working at the settlement agency, Claudine routinely received emails with information about opportunities for the clients she served. She and her family had just come back from visiting a relative in Toronto for the first time when she received an email about the upcoming Destination Canada Forum in Brussels. She shared the information with her clients, but something about it sparked her own interest. She and her husband decided to go.
At the forum, all ten provinces were recruiting. As they made their way around the room, speaking with representatives from Ontario, Quebec, and so on, Claudine felt a personal connection with the Nova Scotia representative. As she remembers, "she was so welcoming, so full of information!"
After attending the forum, the family decided to visit Nova Scotia to learn more. They were eventually welcomed by the person Claudine had connected with. They visited throughout the province and were shown around the Francophone community in Halifax, where they made a number of contacts. Afterwards, they decided "wow, this is where we want to live."
Coming to Canada
This active decision is especially important to Claudine. She explains:
"I came to Nova Scotia because I wanted to, because immigrating is really a personal process. Sometimes you have no choice, but when you say 'Ok, I'm going to do it,' it's because you are okay with it. And once you've decided on something, you have to do whatever it takes to succeed. Obviously, there may be obstacles…but being positive has always helped me move forward."
Although coming to Canada was the family's second immigration experience, for the first time they had made the choice. Claudine, her husband, and their two youngest children settled in Halifax in 2011. Their two oldest sons plan to reunite with the family in Canada once they are finished their post-secondary studies.
Claudine describes the Francophone community in Halifax "like a family." She speaks passionately about the newcomers she welcomes and hopes that sharing her own experiences will help someone else. As she understands so well, the immigration experience is a personal journey. Happily, for Claudine and her family:
"[Coming to Canada] was such a positive thing for us, because our dream was coming true—to live in a place we had chosen."