Dylan Moscovitch and Kirsten Moore-Towers Skate for Canada in Sochi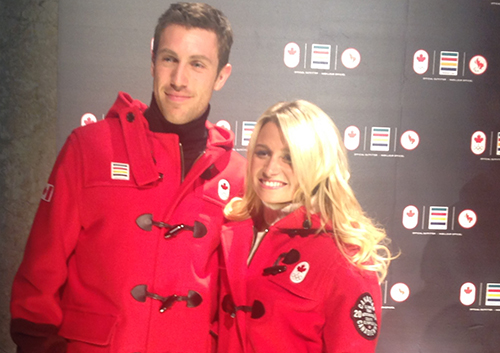 Canadians—whether from the comfort of our living rooms, the local community centre, or the stands in Sochi—will be on the edge of our seats, cheering on our inspiring athletes at the Olympic Winter Games in Russia from February 7 to 23. Decked out in red and white, our athletes will lay it all on the line for a chance at Olympic glory. They will show the world the spirit, the immense talent, and the results of the countless hours of hard work that have led them to the top.
For many, making it to the Olympics is a lifelong dream. For athletes and spectators alike, the Games are a source of national pride. They unite us and give us a special chance to rally together as a nation. We feel the heartbreak of our athletes' dreams left unrealized; we share in the joy of their triumphs.
Every athlete has a story. For many, an immigration experience is woven into it—a history shared by so many Canadians. Olympian Dylan Moscovitch is one of them. He and pairs figure skating partner Kirsten Moore-Towers will skate for Canada in Sochi.
Dylan's mother, Linda, emigrated from South Africa* when she was only 21 years old. She was ready to leave behind a society defined by apartheid and chose Canada for its values, in hopes of a better life for her future children. She never looked back.
In some ways, Dylan can credit his mother's immigration experience with his love of skating—or at least his first taste of it! Once settled in Canada, Linda was eager to try "typically Canadian" winter activities for the first time, like skiing and skating. As she gained confidence on outdoor rinks around Toronto, Dylan, only 13 months old, also enjoyed his first time on the ice, from his perch atop his father Jerry's shoulders.
As luck would have it, on one such outing they were told that Dylan could only be on the ice if he was on his own skates. Rather than calling off the fun, they decided to get Dylan his first pair of blades, which strapped right onto his toddler snow boots. He took off!
Dylan was hooked. He moved from scooting around the outdoor rink, "skating before he could run," to motoring around an indoor public skating area. Here, he was spotted by a coach on the neighbouring ice surface. She offered to give him lessons and as Dylan says laughingly, "that was the beginning of the end."
Click each image to see the full size photo.
When he was five years old, Dylan decided that he wanted to go to the Olympics. For the past 24 years he has been working towards that goal. For Dylan, making it to Sochi really is a dream come true. He shares that, "representing Canada at my first Olympics is a bit surreal. It didn't happen overnight. This is the fifth season that Kirsten and I have skated together, so we've been representing Canada on the international stage since 2009. But the Olympics has this whole other vibe. Seeing my name on the list of athletes, putting on that Olympic jacket…it is a huge honour."
Aside from competing, he is looking forward to being part of the "Olympic movement," eager to soak in the atmosphere of the athletes' village and to cheer on others who share his dream from around the world.
As a parent who has played such an important role in Dylan's Olympic journey, Linda says that she has loved every minute of it. "To watch your child developing and achieving, the tenacity he has shown…I've seen the sacrifices he has made. It has been a long and rewarding journey. I am so proud of him," she says.
At one early point in his skating career, Linda tossed out the idea of Dylan competing for South Africa, knowing that the road to the top as a Canadian figure skater would be paved with fierce competition. Dylan was adamant that he would skate for Canada. We wouldn't want it any other way.
As Dylan Moscovitch and Kirsten Moore-Towers skate for Canada in Sochi, we will be reminded of his remarkable journey and his genuinely Canadian story, shaped by immigration like so many others'! As for Linda, she shares that "to have come to Canada, and to have my son represent the country in a sport that is such a rich part of Canadian heritage makes me feel truly Canadian."
Congratulations to Dylan and Kirsten who brought home a silver medal for their efforts for Canada in Team Figure Skating and for placing 5th in Pairs Figure Skating!
* Interestingly, Olympian Rudi Swiegers, competing with pairs figure skating partner Paige Lawrence, was born in Cape Town, South Africa. Out of three teams of pairs figure skaters representing Canada at the Sochi Olympics, two have immigration connections to South Africa!
Watch Dylan and Kirsten's amazing performance at the 2013 World Championships: