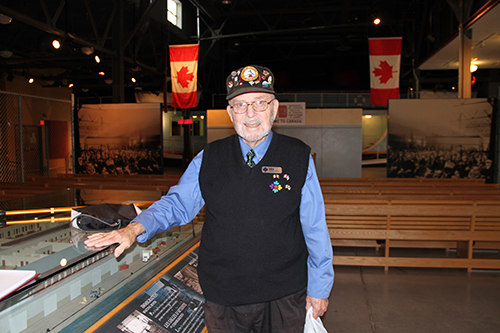 From time to time when you visit the Museum, you may be fortunate enough to meet a volunteer with a special, lasting connection to Pier 21. If you have the chance to talk to him, he will take you on a journey with him back in time, to the days when Pier 21 was a bustling immigration gateway. This man is John Richards.
Dressed smartly in his Museum uniform, you may notice the pins that he proudly wears on his vest. The Nova Scotia flag is a subtle nod to the affection he has for the province where he grew up and has spent his life. The flags of Greece and Italy are reminders of his connection to the immigrants who passed through Pier 21 from these countries.
When you meet John, if you're especially lucky, he will be carrying a well-worn bag, adorned with badges and buttons. This is where he keeps the physical traces of the memories he holds about the Pier—memories collected over more than 20 years working as a boarding agent for I.H. Mathers & Son, for the Greek and Italian Lines, beginning in 1950.
From his bag, John could pull his original address book, with contact information for customs officers, immigration officials and port doctors, preserved in his neat handwriting. He might show you a token given to him by the crew of a Russian fishing trawler, or photos of Halifax from half a century ago. Each memento holds the key to a story. And John loves to share stories. If you had the time, he could keep you captivated for hours.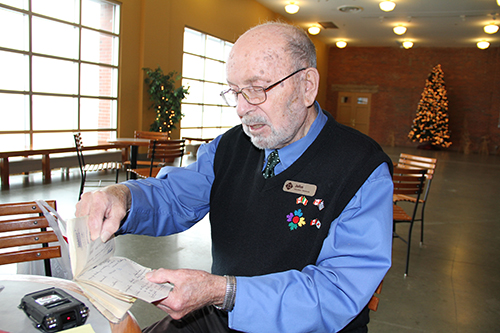 John would tell you tales of the experiences that came with working at Pier 21: like welcoming the former Queen of Bulgaria to Canada and driving her to the airport in his "great big yellow Nova car;" of being offered (and turning down) shots of vodka on Russian ships during the Cold War; and of once helping the Premier of Nova Scotia, who had been turned away by customs, reunite with his brother arriving on a passenger ship.
Along with these more remarkable stories, John is happy to share what the daily routine was like at busy Pier 21. He vividly remembers the ships, from fishing vessels to ocean liners carrying cargo and passengers from around the world, docking here at all hours of the day. Each ship that came into port needed to be cleared with customs and immigration. John would board the ships from the Greek and Italian Lines and gather the required documents so that they could be cleared for entry and exit.
When he closes his eyes, John can picture Pier 21 as it was back then. Instead of exhibits, he sees benches filled with newcomers, sitting quietly before going through customs and onto the trains that would take them to destinations across Canada. He remembers the displaced people who arrived from Europe after the Second World War. He would watch as ships came into the harbour, listing to one side because so many people would be crowded on the deck for a glimpse of land—what was for many the first time they set eyes on Canada.
John witnessed what it was like when over 1,000 newcomers would disembark from a ship and cross the gangway into Pier 21. "Some of them would bend right down…on their hands and knees and kiss the dirty old floor," he recalls. He remembers the post-war immigrants as very weary, but impressively resilient and reflects that, "It's hard to imagine what these people had gone through before they came."
As air travel eventually replaced travel by ocean liner, John witnessed Pier 21 close its doors. But his connection with the historic building, and the people who brought it to life, did not end there. Years later, when Pier 21 had been transformed into a museum, John began volunteering as a tour guide.
He has had many emotional encounters with Museum visitors who came to Canada on ships that he boarded and worked with. As he explains, "These people want to know what happened here. What was it like when their grandmother or mother arrived?" Many visitors have been able to gain insight into this question through John's stories and personal experiences.
These days, John volunteers occasionally at the Museum. A man of 85, he has witnessed many changes at Pier 21. He has a wealth of knowledge and we are lucky that he continues coming back and sharing his tales. When asked why he does it, John replies simply: "This place is like a second home to me."