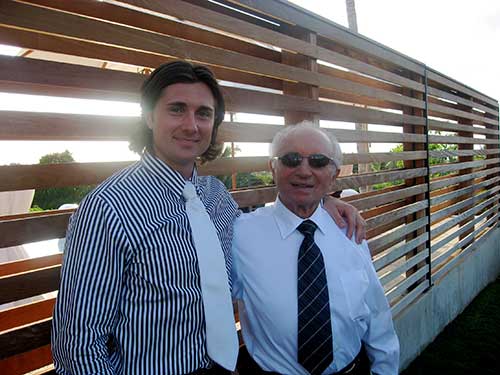 George (Grzegork) Kruk had always sworn he arrived in Canada through Pier 21 over 80 years ago, his grandson Kyle Drake explains. However, upon visiting the Museum, Kyle made a surprising discovery—his grandfather actually landed in Quebec, not Halifax, on October 26, 1930! This is only one of the surprises that the Museum's archives held for Drake.
At only four years old, George Kruk arrived in Canada with his mother, Barbara, and brother, Jan, to reunite with his father and start a new life. Like many arriving families, they had only $20 with them, but a bright future ahead.
"I didn't know much about their experience," says Drake. "But now I know that they came here from Poland, aboard the Doric."
Drake reaches inside an envelope and pulls out photos of the ship his grandfather arrived on, which he received from the Museum's Scotiabank Family History Centre. The package also holds immigration records and information on the ship's voyage. The experience has meant a lot to Drake, giving him a glimpse into his grandfather's life, and in a way, his own.
"Seeing this all firsthand was amazing. It was touching to see where I came from, to learn about what they went through and how they came to Canada," Drake explains. "They were lower-class immigrants, and now I can just imagine them tucked in some corner on this ship, excited to reach Canada."
After disembarking from the Doric, the family boarded a train and headed west to reunite with Drake's great-grandfather, who was working in a coal mine. Eventually, the family of four moved to Edmonton and opened a grocery store.
Today, Drake owns an authentic Irish pub in downtown Halifax called Durty Nelly's. "I'm not Irish," he says laughing. "But I am a mixture of things, and coming to Pier 21 helped me to connect with a part of my roots."
Are you uncertain if you or your family member came through Pier 21? We can help you trace your roots! Contact Cara MacDonald, Reference Services Manager, at reference@pier21.ca with your detailed research request.