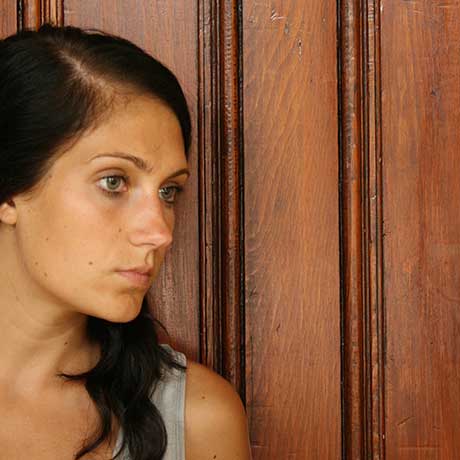 Newfoundland holds a special place in Marianna de Cola's heart. This stems from her time spent along the province's southern coast, particularly in the outport of Grand Bruit, where she conducted research for her Masters of Architecture thesis.
Marianna's research and design involved the study of mutable landscapes, shifting populations, fluctuating resources and possible versatile infrastructural solutions. These were apt themes to be exploring in Grand Bruit, a community that was facing significant challenges and considerable changes at the time.
Today, Grand Bruit has a population of zero. This is the result of a slow decline, based on a number of factors including the collapse of the cod fishery in the early 1990s. By 2007, Grand Bruit's local school had closed after its final two students graduated from elementary school. Not long after, in 2008, the post office shuttered. In 2009, Grand Bruit's 31 residents made the difficult decision and voted to ask for the province's assistance in resettling the community. By the end of summer 2010, the final residents had left the former fishing town. The power in the community was shut off and the ferry service was discontinued.
For Marianna, "Witnessing Grand Bruit as they were going through their own migration experience impacted me very strongly. A feeling of leaving your home I think resonates with many people. The anxiety that is felt along the southern coast of Newfoundland, that their fate may be to eventually resettle, is a very strong and daunting feeling. One feels it as a visitor to these places…the sadness of knowing that this place will no longer exist."
Her time spent in the community and the surrounding areas have deeply influenced her work as a designer since. Much of her research to inform her master's thesis centred on the stories and conversations she had with local residents along the southern coast. As a result, Marianna came to realize the importance of considering the stories of a place when imagining and designing something new in her work. She explains that her experience in Grand Bruit changed her approach to design. She now "aim[s] for more awareness of how a design will fit into the physical and also cultural landscape of a place."
As Marianna describes, "Immigration is a very common Canadian experience. Newfoundland's resettlement story, however, shines a different light on the story of migration in Canada, one that is drastically different than the typical image we have when the words [immigration/migration] are spoken in this country. There are common themes between the types: uncertainty, instability, adaptation and survival. But Newfoundland's migration along the southern coast also has feelings of the demise of communities as the people aren't just moving, they're also leaving a piece of land uninhabited. It was important for me to explore [this] in my work…because it was very topical at the time. With the exploration of offshore oil, and the continual struggles of the fishing industry, and the recent decision to resettle Grand Bruit, the situation forced me to ask the question of whether these are the right decisions our society is making."
Marianna wanted to share the story of Grand Bruit and to encourage others to consider the same questions she was asking. This prompted her to create a model, which was selected as part of Migrating Landscapes — Canada's 2012 entry to the prestigious International Architecture Exhibition, la Biennale di Venezia, in Venice, Italy.
The main idea behind the model was to communicate the importance of seeing the past and the future at the same time. In her model, this was represented by the top and bottom layers. Marianna chose to incorporate delicate materials to represent fragility and used fish weights, an everyday object that spoke directly to the fishing culture of the Newfoundland communities represented.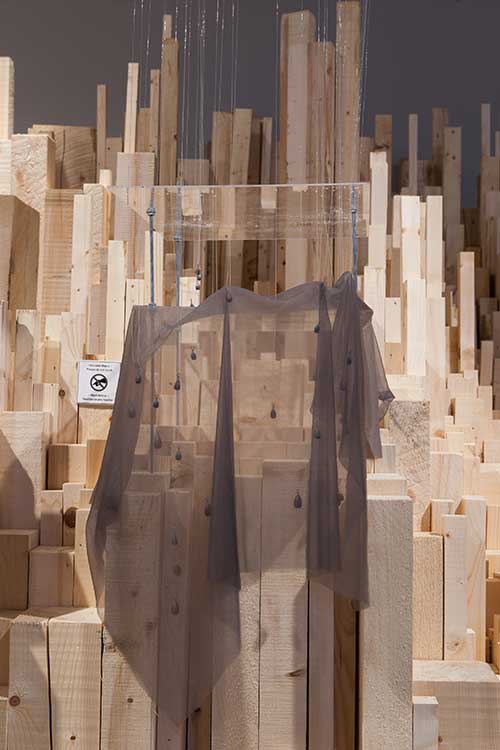 Marianna recalls that as she finally left Grand Bruit's harbour, she experienced similar feelings to what she felt as a child who moved homes several times. Although she says that her moves were "never as drastic" as what she witnessed in Grand Bruit, driving away as a family with the last of their belongings, on the last day in a home, are some of her most powerful memories.
Her father built a number of their family homes. He worked in construction and Marianna grew up surrounded by the trade. As a young girl, she remembers standing in the middle of an excavated construction site as the foundation of their new home was being poured. She recalls feeling excited to imagine what would take shape from this foundation, and standing in a stud wall room imagining what the finished product would look like. She wanted to be part of the process. This influence, and her mother's encouragement to always work with precision and accuracy, set Marianna on a path towards architecture.
Today, Marianna is interested by how architecture responds to the physical, political and cultural landscape of Canada. Her personal experiences of migration, and her experience connecting with the people and community of Grand Bruit, Newfoundland, have shaped the designer that she is today: one who recognizes the importance of understanding the stories of a place's past, in order to shape its future.
See Marianna's model and visit Migrating Landscapes at the Canadian Museum of Immigration at Pier 21 until November 11, 2013.
---
Marianna de Cola is a Toronto-based designer at Kohn Partnership Architects. She completed her Masters of Architecture at the University of Waterloo. Her thesis research and design was set in Newfoundland and involved the study of mutable landscapes, shifting populations, fluctuating resources and possible versatile infrastructural solutions. She presented her graduate work at the ACSA Fall conference in 2011 in Montreal and her research and photography has been published in Bracket II: Goes Soft, On-Site Magazine and Ground: Landscape Architect Quarterly. Preceding her graduate work Marianna spent time working and learning in Toronto, New York, London and Rome.