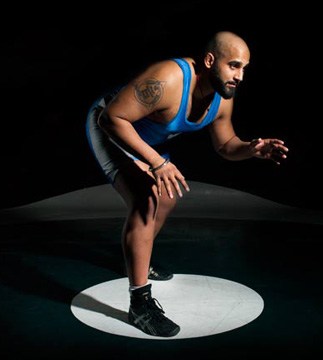 Arjan Bhullar competed for Canada in Men's 120kg Freestyle Wrestling in London. Earlier this year, Arjan participated in the Canadian Museum of Immigration at Pier 21's temporary exhibition, Shaping Canada: Exploring Our Cultural Landscapes.
Clip 1 (1:03)
Arjan's father, Avtar Bhullar, was also a wrestler who competed on the Indian money circuit. In this clip, Arjan describes growing up with wrestling as the common denominator in his family.
Transcription: Clip 1
I – so my dad – so when he was competing, the family, all the rest of the family worked and supported him. He didn't work. Anything he needed, they helped him out and that type of thing. They built a little bit of a backyard gym for him. He had sparring partners come through and he had his own coach, that type of stuff. So I was kind of born into it type of thing. Not only me, the whole family was. It was a family thing. So my uncles did it and then they supported him while he competed. And as my cousins grew up and I grew up, we always rolled around the mat. My dad was still training then so I'd kind of follow him through the workouts and that type of stuff. And pretend I was a champion wrestler, that type of stuff. And beyond that, I guess it kind of took off from there. Any arguments me and my cousins had, this and that, we'd settle on the mats. That's what it always came down to. It was pretty cool growing up with that common denominator was the sport of wrestling.
Clip 2 (0:28)
Arjan says that while the rules of wrestling may change, the sport itself always remains the same. He believes that wrestling is the most challenging sport in the world because of the way it challenges the athlete mentally, physically and spiritually.
Transcription: Clip 2
Every four years, they change the rules. But end of the day, they can change the rules all they want, it's still you against your opponent on a forty by forty mat and he's trying to beat you and you're trying to beat him. And you're going to be tested to your absolute limit. At a high level, I can truly say there's no sport that compares to wrestling in terms of how tough it is and how competitive it is. You will be tested from head to toe, mentally, physically and spiritually, every aspect.