If an outsider were to walk into the room, they would most definitely feel as though they had missed the date on their calendar, and happened upon St. Patrick's Day.
The leprechaun-clad living room is filled with faded photographs and various Irish memorabilia. A lone, spindly shamrock plant sits upon a large wood-framed television, starting to fade but finding the strength to live through anything, as it has done for years.
Amongst unimaginable variations of the colour green, sits Johnny Cree. Nestled in the pale blue recliner, the armrests worn down to a few yellowing threads, he scratches the top of Kitty's head. Saucer-eyed, the spotted cat stares back at him lovingly, knowing she has been his favourite companion for nearly 15 years.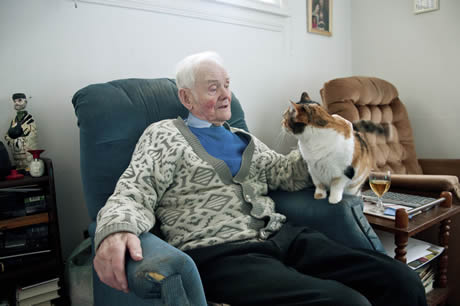 "She what's keeping me around!" Johnny exclaims with a faded Irish drawl.
Much like the lonely shamrock plant, Johnny has withstood the test of time and life's hardships. Emigrating from Ireland in 1929 at the age of 16, Johnny sailed across the Atlantic Ocean on the Duchess of Atholl, taking his first step on Canadian soil at Pier 21 on November 30, 1929. Ever since, Johnny's been living in Canada.
Now 98 years old, Johnny is not only a grandfather, or a great-grandfather, but a great-great-grandfather to a few lucky children. I happen to be one of the children that is lucky enough to call Johnny Cree my great-grandfather.
"I've got so many grandchildren, and great-grandchildren, I've got myself a small army," chuckles Johnny, "I can't keep track of them all. But ay, I am lucky to have them!"
Johnny is one of those characters that the entire neighbourhood knows, every one of them having a few good stories to tell about him. Friends and family gather at Johnny's house for special events and holidays. At his annual St. Patrick's Day parties and birthday bashes, Johnny can usually be found with a glass of whiskey in one hand, while the other hand taps the side of his neatly ironed pants in time to his singing of an Irish tune.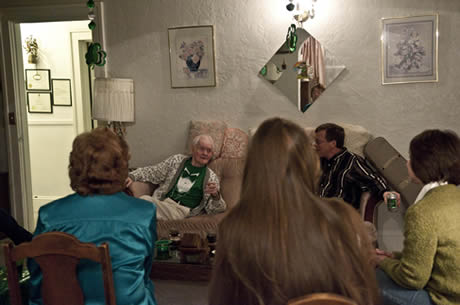 "Grandpa loves to sing and dance. Unlike a lot of older people, he loves anything musical, anything that he can tap a beat to," explains Victoria Gaspar, one of Johnny's grandchildren.
Johnny is a real crowd pleaser, evident in the clapping hands and wide smiles on his guests' faces.
On April 6, 1913, Johnny was born in Belfast, Ireland to a linen factory worker Mary Atkins and bookkeeper George Cree, into what would become a family of 10. Although extremely poor, Johnny lived an average childhood in Northern Ireland, being mischievous and getting into trouble like any young boy does. But as he grew older his friends started talking about leaving the country and making a place for themselves in a new land.
"My mother didn't want me to leave, but my father said, 'Let the boy go, if he wants to go.' And so I went!" explains Cree with an air of excitement yet a tinge of regret.
After coming to Canada, Cree worked as a farm boy on numerous farms. He was treated so badly that it forced him to run away and start a cross-Canada train adventure. Johnny would hop trains, in any type of weather, sometimes without food for up to two days.
Since coming to Canada, Johnny has led an exciting life, full of events both happy and heartbreaking.
Although life may not have always been as relaxed and comfortable as it appears now, Johnny feels blessed to have such a large family and a long life.
"You have to take those silver threads among the gold," explains Johnny.
Always optimistic and happy in nature, Johnny narrows down his past life to a few favourite pastimes that kept him going:
"Chasing girls, chasing girls, chasing girls, the occasional good fistfight, oh, and Irish whiskey!"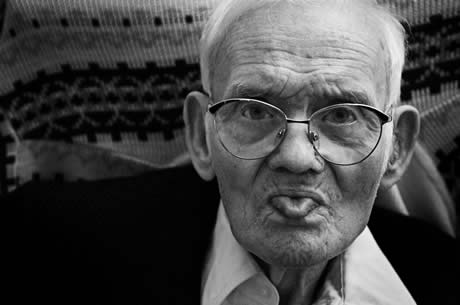 Johnny has been in Canada for almost 81 years, but still considers himself an Irishman. As an ode to his home country, he seems to wear at least one article of green clothing every day, including faded cartoon socks covered in shamrocks. He also tries to visit his green isle at least once every few years.
"I'm an Irishman, you can't make a Canadian 'outta me," Johnny exclaims.
Although Ireland will always be number one in his heart, he still makes the best of his time in Canada. With that in mind, his amicable disposition and active lifestyle seem to follow him anywhere he goes.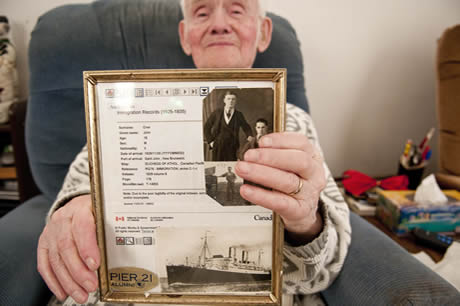 Photo credits: Mariza Dunham Gaspar