Growing up in Edmonton, Alberta, Tiffany Shaw-Collinge may not have pictured herself ending up in sunny California (or perhaps the harsh winters of the Canadian Prairies were exactly what subconsciously encouraged her eventual move). Regardless, for this Canadian currently living in Los Angeles, having lived in different cities, different regions of Canada and different countries has influenced her worldview, as well as her work in art and architecture.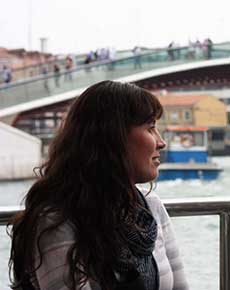 Born in Calgary, raised in Edmonton and with a strong tie to Fort McMurray, Alberta—home of her maternal great-grandparents and where her mother grew up—Tiffany feels deeply connected to her roots in the Canadian west. Her great-grandfather, Jean Paulin (from whom she gets her middle name, Jeanine), had a cabin on the trapline and her great-grandmother was a Métis moccasin maker.
Interestingly, it was during Tiffany's time living on Canada's east coast, in Halifax, Nova Scotia, that she really began to explore the connection to her family history and its meaning. Tiffany had moved to study in the Bachelor of Fine Arts program at NSCAD University and for her, "Halifax was an entirely different place than Alberta, where I was raised. I loved the sense of history and heritage that seemed to be celebrated in the province. I attended NSCAD at a young age, which allowed me to question if my ideals were native to Alberta or if I actually felt them myself. Regionalism became intensely fascinating to me and I explored those themes in school through film, sound, painting and video work." It was also at NSCAD where a particularly influential professor encouraged Tiffany to explore her personal heritage through her work—something that she continues to do to this day.
Experiencing life in another province sparked Tiffany's interest in her family roots, and life in another country has prompted her to reflect on what it means to be Canadian. Tiffany made the move to Los Angeles, California to begin her graduate studies at the Southern California Institute of Architecture (SCI-Arc), from which she recently graduated with distinction. Since moving to L.A., Tiffany describes that "I have a greater awareness to my thoughts and actions. While Canada and the U.S. appear to be similar, there are many distinctions I make as a way to separate myself from Americans. This separation interests me as I try to navigate through the city, as I hybridize and divide the two worlds constantly. This shift pushes me to explore who I am and where I come from. It gives me an opportunity to change or retain belief and value systems that I never thought possible. It is a liberating and frustrating experience, making me stronger for it."
It is clear that experiences of migration are powerful influences that have shaped Tiffany as an individual. Understanding other cultures more fully by having been immersed in them, and reflecting more thoughtfully on her own culture as a result of new experiences, are two positive results of Tiffany's moves. As she describes, "Migration is a complicated subject and I find kindness and tolerance [two] of the most important factors in any circumstance dealing with transitions and movement from one place to another."
Tiffany was inspired to further explore the topic of migration through her work, which was selected as part of Migrating Landscapes — Canada's 2012 official entry to the 13th International Architecture Exhibition: la Biennale di Venezia in Venice, Italy (essentially the Olympics of architecture).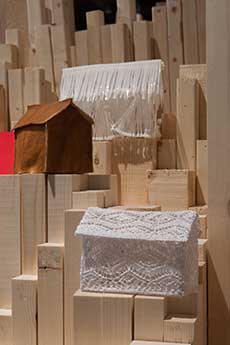 Tiffany's selected piece exemplifies how she has continued to incorporate aspects of her family heritage into her craft as an artist and architect. Her untitled model, one of 18 featured in Migrating Landscapes, combines her great-grandfather's cabin on the trapline with the skills of knitting, crocheting and sewing that the women in her family have passed down through the generations. Tiffany has fond memories of learning these skills from her mother, aunts and grandmother. Through each relocation and transition in her life, she has always baked and knit as a way to feel connected to her family, despite geographical distance that has kept them apart.
In fact, Tiffany crocheted one of the three cabins in her piece for Migrating Landscapes. She made a second from deer hide sourced from Fort McMurray and the third cabin she created out of zip ties. Her piece incorporates materials and techniques passed down from her Métis family, emphasizing craft and technology. Tiffany focuses on integrating fine art elements in much of her architectural work as a way to explore deeper meanings of things left unsaid.
Strongly influenced by her roots as a Western Canadian, but always open to new cultures and experiences, this Canadian living in Los Angeles has a bright career ahead. By incorporating unique elements of herself and her heritage into the work that she does, Tiffany is making her mark—not only in the physical structures that she creates, but in the ideas surrounding memory and culture that her work prompts us to consider.
See Tiffany's model and visit Migrating Landscapes at the Canadian Museum of Immigration at Pier 21 until October 27, 2013.
---
Tiffany Shaw-Collinge was born in Calgary, Alberta in 1982 and raised in Edmonton, Alberta. In 2004 Shaw-Collinge received a Diploma of Fine Arts from Grant MacEwan University (Edmonton, Alberta) and in 2006 a Bachelor of Fine Arts from NSCAD University (Halifax, Nova Scotia). Shaw-Collinge recently graduated with distinction from the Southern California Institute of Architecture (SCI-Arc) in Los Angeles, California and currently lives and works in L.A.